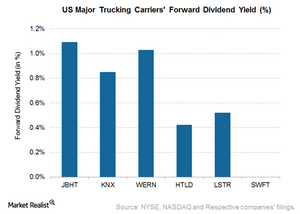 Which Trucking Company Tops in Dividend Growth?
Dividend payments
Earlier in this series, we looked at operating cash flows and the share of revenues for some major truckload carriers. In this part, we'll take a look at those companies' dividend payments. Trucking is a very fragmented and capital-intensive industry. Fierce competition usually requires transporters to reinvest a large chunk of profits back into the business.
Usually, trucking carriers increase dividends per share either due to strong cash flows or poor growth prospects in hindsight. A quick look at the above graph shows that the dividend yields of the major road transportation companies are very low. Please refer to the year-to-date returns generated by these carriers in the first part of this series.
Article continues below advertisement
Werner Enterprises recorded the highest dividend growth
In the second quarter 2016, Werner Enterprises (WERN) declared a dividend of $0.06 per share. That's an increase of 20% from the corresponding period last year. Based on the company's closing price of $24.30 on September 2, 2016, this translates to an annual yield of just more than 1%. Since July 1987, WERN has paid a cash dividend in each consecutive quarter.
After WERN, Landstar System (LSTR) recorded the highest growth in dividends. The company's 2Q16 dividend per share was $0.08, representing a rise of 14.3% on a year-over-year basis. But LSTR's dividend yield is quite low at 0.5%. It ranks second in terms of YTD (year-to-date) stock returns in our group. You should note that the company operates an asset-light transportation business.
Knight Transportation (KNX) and Heartland Express (HTLD) maintained the same levels of dividends in 2Q16 as they did in 2Q15. KNX's and HTLD's dividends per share were $0.06 and $0.02, respectively. This represents an annualized yield of 0.9% for KNX and 0.4% for HTLD.
It's worth noting that since December 2004, KNX has paid a quarterly cash dividend in every quarter. Heartland has paid consecutive cash dividends for the past 50 quarters. In contrast to its peers, Swift Transportation (SWFT) follows a policy of not paying equity dividends.
ETF investments
Major US airlines (DAL) and railroads make up 6.5% and 4.0%, respectively, of the iShares Global Industrials (EXI). This ETF holds 1.1% and 2.1%, respectively, in global express delivery companies FedEx (FDX) and United Parcel Service (UPS).
For a sequential comparison of the financial results of these trucking companies, you can refer to Inside the Plight of Major US Truckload Carriers in 2016.
In the next part, we'll assess the impact of hours of service rules on the operations of truckload companies.