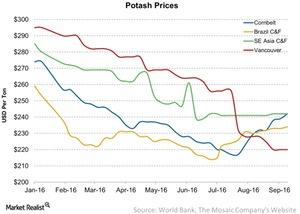 Potash Prices for the Week Ended September 23
Potash prices
Similar to fertilizer prices that we've covered so far in this series, potash (muriate of potash) prices have also fallen significantly over the years. This has put pressure on existing companies to justify their expansion costs and maintain their margins.
MOP (muriate of potash) is the key potash fertilizer (FXZ) used globally. Recently, PotashCorp (POT) and Agrium (AGU) announced a merger on the back of falling potash prices. Let's see how they traded last week at the four locations depicted in the graph below.
Article continues below advertisement
Potash prices
Potash prices in the Corn Belt region of the United States appear to still be reversing their downward movement. Last week, average weekly potash prices rose another 1.5% to $219 per metric ton from a week ago. Similarly, prices in Brazil rose 42 basis points to $234 per metric ton compared to a week ago.
However, prices at the other two locations in the graph remained unchanged compared to a week ago. Prices at the Vancouver location remained unchanged at $220 per metric ton. Similarly, prices in Southeast Asia remained unchanged at $242 per metric ton for the week ended September 23, 2016, compared to a week ago.
The average potash prices at the above four locations have fallen as much as 22% compared to the same period last year.
This series is part of our weekly series to help you track fertilizer prices that are key to companies such as Mosaic (MOS), PotashCorp, Agrium, CF Industries (CF), and Intrepid Potash (IPI). Visit Market Realist's Agricultural Fertilizer page to learn more about these companies.