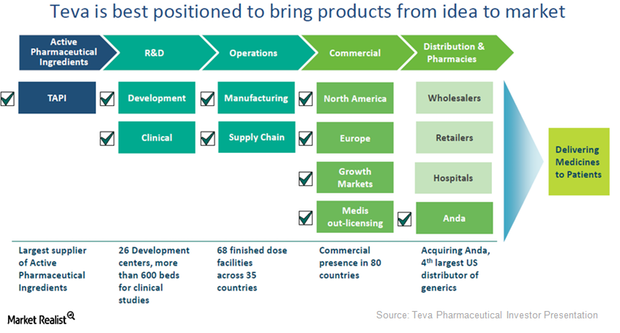 Teva's Generic Value Chain Differentiates It from Its Peers
Generic value chain
In addition to its robust strategy, Teva Pharmaceutical Industries (TEVA) also boasts of an extensive presence across all levels of the value chain for its generics business. This presence is expected to enable the company to increase the rate of new product launches in the market, eventually boosting TEVA's share prices. It could also have a positive impact on the SPDR MSCI ACWI ex-US ETF (CWI), which has about 0.3% of its total portfolio holdings in TEVA.
Article continues below advertisement
Article continues below advertisement
Active pharmaceutical ingredients
The first block in the value chain is Teva Pharmaceutical's API (active pharmaceutical ingredient) partner, TAPI. As the largest producer of API in the world, TAPI can exploit efficiencies through backward integration with raw material suppliers.
TAPI's and Teva's R&D (research and development) operations could mutually benefit each other, leading to a greater number of new product launches as well as FTF (first-to-file) products. This partnership would help Teva pose strong competition to other generic pharmaceutical players such as Novartis (NVS), Sanofi (SNY), and Mylan (MYL). (To know more about FTF products, please refer to Market Realist's "Is a Para IV Filing Rewarding for a Generic Company?")
R&D Operations
Teva's R&D operations are made up of about 26 development sites and involve about 3,000 employees. The company also operates a clinical research organization comprising of about 600 beds at multiple clinical sites in India and the US.
Article continues below advertisement
Manufacturing and commerical operations
Teva operates a global manufacturing network made up of 68 finished dosage manufacturing plants across 35 countries. Each plant specializes in producing certain types of products.
Teva primarily operates in four commercial functions that include North America operations, Europe operations, growth markets, and out-licensing through Medis.
Distribution and pharmacies
The Teva-ANDA deal is expected to conclude in October 2016 and should increase access to Teva's generic drugs. Along with other wholesalers, retailers, hospitals, and ANDA, the company also expects to penetrate its specialty drugs across multiple markets.
In the next part, we'll explore Teva Pharmaceutical's geographic diversification strategy in greater detail.