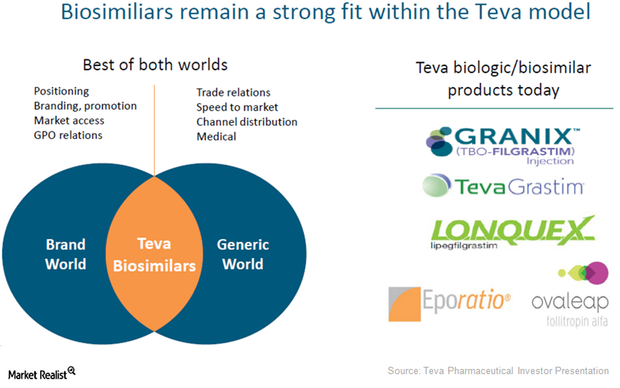 A Look at Teva's Dominance in the Biosimilar Space
Biosimilar business
As one of the early entrants in biosimilars, Teva Pharmaceutical Industries (TEVA) has managed to become one of the biggest players in the biosimilar space. The company earns ~$300 million–$400 million in revenues annually from the sale of its biosimilar drugs.
According to the FDA's (US Food and Drug Administration) website, "Biosimilars are a type of biological product that are licensed (approved) by FDA because they are highly similar to an already FDA-approved biological product, known as the biological reference product (reference product), and have been shown to have no clinically meaningful differences from the reference product."
Article continues below advertisement
Article continues below advertisement
Biosimilar product development
The above diagram shows the key biosimilar products currently marketed by Teva Pharmaceutical. These products are considered as Wave 1 or Phase 1 products in the company's biosimilar product development program. Since the FDA approval of Granix in December 2014, the company has been one of the leading players in the global erythropoietin drug market. Granix has been in strong competition with Amgen's (AMGN) neutropenia drug, Neupogen, in the US.
For developing and launching Wave 2 products, Teva is seeking alliances with other biosimilar players. It doesn't have sufficient time to develop Wave 2 products independently, which could prove a challenge for new biosimilar product launches from 2016 to 2021.
Wave 3
However, Teva Pharmaceutical is developing four products in Wave 3 of its biosimilar program, which highlights the company's robust R&D (research and development) pipeline. The R&D should ensure consistent biosimilar product launches beyond 2021.
Teva has meanwhile planned to leverage synergies between its branded drug and generic drug segments, which include R&D operations, IP (intellectual property) operations, quality management, regulatory affairs, and sales operations.
Teva's branded drugs sales team should, at the same time, help the company compete with other biosimilar players like Novartis (NVS) and GlaxoSmithKline (GSK). Notably, the First Trust Value Line Dividend Index Fund (FVD) has about 0.49% of its total portfolio holdings in TEVA.