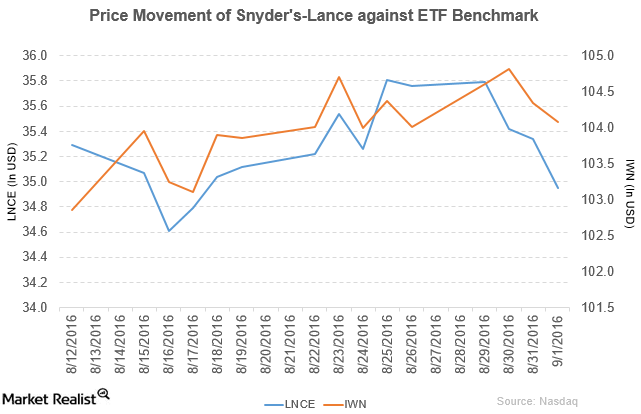 Snyder's-Lance Acquired Metcalfe's Skinny to Expand Its Business
By Gabriel Kane

Sep. 2 2016, Published 1:27 p.m. ET
Price movement
Snyder's-Lance (LNCE) has a market cap of $3.4 billion. It fell by 1.1% to close at $34.95 per share on September 1, 2016. The stock's weekly, monthly, and YTD (year-to-date) price movements were -2.4%, 2.2%, and 3.4%, respectively, on the same day.
LNCE is now trading 0.60% below its 20-day moving average, 1.5% above its 50-day moving average, and 6.2% above its 200-day moving average.
Article continues below advertisement
Related ETFs and peers
The iShares Russell 2000 Value ETF (IWN) invests 0.34% of its holdings in LNCE The ETF tracks an index of US small-cap value stocks. The index selects value stocks from a universe of stocks ranked 1001–3000 by market cap. The YTD price movement of IWN was 14.4% on September 1.
The iShares Russell 2000 ETF (IWM) invests 0.17% of its holdings in LNCE. The ETF tracks a market-cap-weighted index of US small-cap stocks. The index selects stocks ranked 1,001–3,000 by market cap.
The market caps of Snyder's-Lance's competitors are as follows:
Latest news on Snyder's-Lance
In a press release on September 1, 2016, Snyder's-Lance reported, "Snyder's-Lance, Inc. (LNCE) today announced that the Company's Kettle Foods subsidiary completed the acquisition of Metcalfe's skinny Limited ("Metcalfe"), by acquiring the remaining 74% interest in the leading UK premium popcorn brand. Kettle Foods had initially acquired a 26% stake in the business from Metcalfe in January 2016."
According to Carl E. Lee, Jr., Snyder's-Lance's President and CEO, the company is "excited to add the Metcalfe's skinny brands to our portfolio and expand our presence in the UK marketplace. We see tremendous growth in the UK with additional opportunities for further international expansion for our innovative collection of snacking brands."
Article continues below advertisement
Performance in 2Q16
Snyder's-Lance reported 2Q16 net revenue of $609.5 million, which is a rise of 41.3%, as compared to its net revenue of $431.4 million in 2Q15. The company's gross profit margin and EBIT (earnings before interest and tax) rose by 2.0% and 36.9%, respectively, in fiscal 2Q16 as compared to the same period last year. It reported impairment charges of $0.49 million in 2Q16.
LNCE's net income rose to $19.7 million, and its EPS (earnings per share) fell to $0.20 in 2Q16, as compared to net income and EPS of $17.3 million and $0.24, respectively, in 2Q15. It reported adjusted EBITDA (earnings before interest, tax, depreciation, and amortization) and adjusted EPS of $78.6 million and $0.28, respectively, in 2Q16, which represent rises of 56.6% and 3.7%, respectively, as compared to 2Q15.
Snyder's-Lance's cash and cash equivalents fell by 3.6%, and its inventories rose by 106% in 2Q16 over 4Q15. Its current ratio fell to 1.7x, and its DE (debt-to-equity) ratio rose to 1.1x in 2Q16, as compared to 2.2x and 0.63x, respectively, in 4Q15.
Projections
LNCE expects net revenue of $2.29 billion–$2.33 billion in 2016. This excludes contributions from Diamond Foods' net revenue growth of flat to 2%.
Diamond Foods' revenue contribution of ~$630 million–$650 million for the ten months starting on February 29, 2016, reflects the negative impact of unfavorable foreign currency and the net price realization from lower commodity costs.
More of the company's 2016 projections include the following:
adjusted EBITDA of $313 million–$325 million
capital expenditure of $80 million–$85 million
EPS of $1.22–$1.30 (excluding special items and charges from the Diamond Foods acquisition, but including the impact of -$0.10 to -$0.12 per share from purchase accounting adjustments)
net interest expense of $33 million–$35 million
effective tax rate of 34%–35%
LNCE expects its EPS to be in the range of $0.28–$0.31 in 3Q16.
Now let's look at Post Holdings (POST).