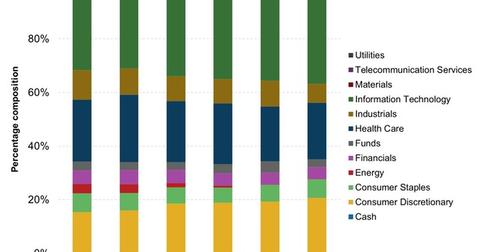 Sector Composition of Principal LargeCap Growth Fund I in YTD 2016
By David Ashworth

Updated
Principal LargeCap Growth Fund I overview
The Principal LargeCap Growth Fund I (PLGAX) invests at least 80% of its assets in equities of large-cap companies. The fund considers those companies as large caps whose market caps are in the range of companies making up the Russell 1000 Growth Index.
The fund focuses on growth-oriented companies, meaning that it focuses on companies whose capital and earnings growth potential is expected to be above average. Principal Management Corporation invests between 10%–30% of the fund's assets in the equity securities that comprise the Russell 1000 Growth Index, with the aim of matching or exceeding the performance of the index.
The weights of these securities can either be higher or lower than the index. The rest of the assets are managed by subadvisers.
Intuitive Surgical (ISRG), Starbucks (SBUX), Estée Lauder (EL), Boeing (BA), and Amphenol (APH) were among the fund's 578 holdings at the end of June 2016. In July, the fund was managing $7.3 billion in assets.
Article continues below advertisement
Portfolio changes in the Principal LargeCap Growth Fund I
Information technology is the largest invested sector by the Principal LargeCap Growth Fund I (PLGAX), comprising a little less than one-third of the portfolio. The healthcare sector comes in a distant second, closely followed by the consumer discretionary sector. Each sector commands more than one-fifth of the portfolio. These three sectors form nearly three-fourths of the fund's assets—no other sector forms even a tenth of the assets.
We've looked at the quarterly portfolios of PLGAX for the past three years through June 2016. The fund's management seems to be betting on a rise in consumer spending, as shown by increased exposure to consumer discretionary stocks. The portfolio weight of the consumer staples sector has been reduced.
Energy stocks have been virtually removed from the portfolio, as exposure to the sector has been reduced from 7% three years ago to 0.1% at present. Plus, the fund's management is not favoring financials or industrials, which have shown an inclination toward tech and healthcare stocks. Telecom stocks have also seen an increase in their share in the fund.
How has the Principal LargeCap Growth Fund I – Class A's (PLGAX) portfolio positioning impacted its returns in YTD 2016? Let's look at that in the next article.