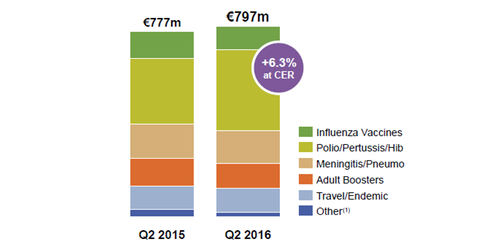 Sanofi's Chase for Zika Virus Vaccine Could Drive Its Share Price
By Jillian Dabney

Updated
Vaccine business
Sanofi's PPH, or Polio/Pertussis/Hib vaccines portfolio generated 627 million euros, or about $705 during the first half of 2016.
Article continues below advertisement
Sanofi's Zika Virus Vaccine R&D project
Sanofi was the only large drugmaker conducting research on the mosquito-borne Zika virus. On July 6, 2016, Sanofi announced an agreement with the WRAIR (Walter Reed Army Institute of Research, wherein Sanofi will receive Zika-purified, inactivated virus vaccine technology from WRAIR. Sanofi will create a clinical development and regulatory strategy for the vaccine development.
But recently, GlaxoSmithkline (GSK) jumped into the race for Zika virus vaccine development. GSK is conducting research with National Institutes of Health, or NIH. Inovio Pharmaceuticals is also leading the race for developing a Zika virus vaccine.
If Sanofi is successful in developing a Zika virus vaccine, its valuation multiple and share price could rise. But it's often risky to invest directly in a pharma or biotech company because any news release on the success or failure of a drug can result in volatility in stock price. To remain on the safe side, investors can choose ETFs like the PowerShares International Dividend Achievers (PID), which has 1.35% of its total holdings in Sanofi as well as assets in Novartis (NVS) and Shire (SHPG).
Now let's look at analyst recommendations for Sanofi.