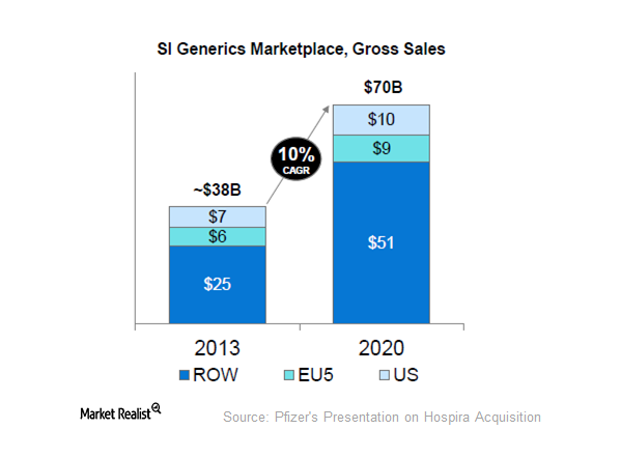 Pfizer's Hospira Deal: Catching Up a Year Later
Pfizer's Hospira deal
On September 13, 2015, Pfizer (PFE) completed its acquisition of Hospira for $17 billion. With this acquisition, Pfizer won access to Hospira's leading injectable drugs and infusion technologies as well as its biosimilars.
Hospira dominated in Specialty Injectable Pharmaceuticals (or SIP) with its ~200 products with differentiated presentations. Similarly, it held three medical device platforms—infusion, pain management, and ambulatory devices. Its biosimilar products included Epogen, or EPO, which was rejected in October 2015, and Infliximab, which is a second approved biosimilar in the United States.
Article continues below advertisement
The attractiveness of the generic sterile injectable and biosimilars market
As per Pfizer's presentation on its Hospira acquisition, the generic sterile injectable (or SI) market's gross sales should grow 10% from $38 billion in 2013 to $70 billion in 2020 with the United States, China, and emerging markets as its probable growth drivers.
Along with the SI market, the market for biosimilars is also anticipated to grow enormously. With rising healthcare costs, government bodies are trying to curb these costs. Adapting generics and biosimilars as an alternative approach to cost containment should boost biosimilars' gross sales from $3 billion in 2015 to $20 billion in 2020.
With the loss of exclusivity for biologics and clear regulatory pathways for biosimilars, the market should witness a surge. Some of the top-selling biologics that are about to lose patent protection include Abbvie's (ABBV) Humira, Amgen's (AMGN) Enbrel, and Johnson & Johnson's (JNJ) Remicade. Novartis is developing biosimilars for Humira and Remicade.
To offset the falling EH business, Pfizer seems to be on an acquisition spree. Continue to the next part of this series for details on Pfizer's recent anti-infective portfolio.
If you invest in the VanEck Vectors Pharmaceutical ETF (PPH), you may gain exposure to Pfizer as the fund invests 5% of its holdings in Pfizer.