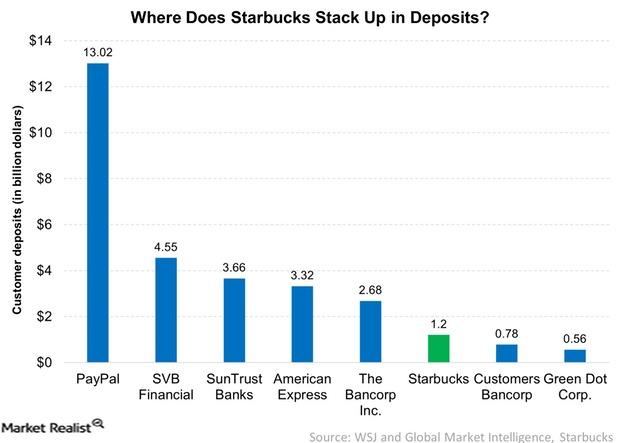 How Mobile Sector Growth Feeds into the Restaurant Industry
By Sanmit Amin

Sep. 20 2016, Updated 8:04 a.m. ET
Mobile Sector Growth Feeds Into Restaurant Industry
The growth of the mobile sector has made way for innovative touch points in the restaurant industry. With mobile apps that include menus, rewards programs, order ahead, and delivery, the restaurant industry is now in the palm of the consumer's hand.
Due to the amount of stored value on gift cards and the stored value on their mobile pay app, Starbucks has $1.5 billion dollars in deposits as of June 2016. That number is larger than what's stored in many large United States banks, such as the Bank of California.
As of June 2016, 24% of U.S. transactions were made using the Starbucks mobile app. Starbucks had $1.2 billion loaded onto mobile apps and Starbucks cards as of Q1 2016.
Article continues below advertisement
Market Realist – Mobile apps could revolutionize the restaurant industry.
Customers now have the ability to not only order in advance but to also pay in advance. There's often a special pickup window option so customers don't have to wait in line. That means the value of a mobile app (application) is extremely important for restaurant owners.
Customers today expect a lot out of restaurant apps. Restaurants that develop the best apps are likely to come out ahead.
Starbucks (SBUX) has $1.2 billion loaded onto cards and its mobile app as of 1Q16, according to the Wall Street Journal and S&P Global Market Intelligence. This money is used to purchase items such as drinks, food, and merchandise that Starbucks sells.
As we saw in a previous part of this series, Domino's Pizza (DPZ) has launched a new mobile app. Customers can fill out their pizza profiles and don't have to swipe or click to place an order. The company's management has attributed some of the company's recent success to its mobile app. Investors looking to obtain exposure to the growth in restaurant mobile payments can do so with the BITE ETF.