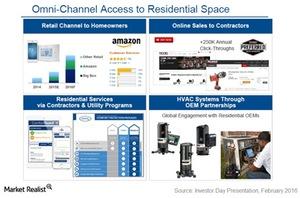 How This Emerson Sales Strategy Is Reeling in Big Box Retailers
Emerson Electric's omnichannel distribution strategy
Emerson Electric's (EMR) omnichannel sales strategy is a multichannel approach that provides an integrated shopping experience. Customers can shop online through their mobile or desktop devices and offline through brick-and-mortar stores or supermarkets (XRT).
In the online space, Amazon (AMZN) has become an important channel for Emerson (EMR), especially when it comes to products such as thermostats. Emerson claims that it is number one in HVAC (heating, ventilation, and air conditioning) controls on Amazon. Its Sensi programmable thermostat can be controlled through the Amazon Alexa app (application). This is along the lines of Amazon Echo, which is now also able to control some of General Electric's (GE) appliances.
Among big box retailers (RTH), Emerson has expanded its presence in Home Depot (HD) and Lowe's (LOW).
Article continues below advertisement
Article continues below advertisement
Emerson's System Solutions strategy
Emerson has an interesting strategy of bundling products into systems. Along these lines, Emerson launched the ComfortGuard Monitoring Service in May 2014. ComfortGuard has a home service agreement in which customers pay $15–$20 per month to monitor their HVAC systems.
The sensors installed by contractors gather information every time the air conditioning system runs. If the filter is clogged or if equipment efficiency is declining, the company sends timely reports and insights that enable customers to manage their systems more efficiently.
As part of the agreement, Emerson's contractors visit customers twice a year and try to sell related products. So the strategy also increases the time engaged with the customer.