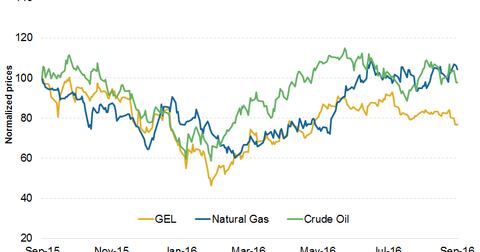 Genesis Energy's Commodity Price Exposure: Key for Investors
By Kurt Gallon

Sep. 23 2016, Updated 9:04 a.m. ET
Genesis Energy's commodity price exposure
The earnings of midstream companies are believed to not have much direct commodity price exposure. Midstream companies include larger entities such as Williams Partners (WPZ) and Energy Transfer Partners (ETP), as well as smaller companies like Genesis Energy (GEL) and Crestwood Equity Partners (CEQP).
The correlation between Genesis Energy's (GEL) stock price and crude oil (USO) resulted in a correlation coefficient of 0.52 over the past year. Natural gas (UNG) and GEL have a correlation coefficient of 0.1 for the same period.
GEL's correlation with both crude oil and natural gas has increased slightly over the past three months. A correlation coefficient close to 1 might indicate strong relation between two variables.
Genesis Energy's high correlation with crude oil reflects its exposure to crude oil through its Supply and Logistics business. Apart from this, GEL has high exposure to NaOH (caustic soda) and NaHS (sodium hydrosulfide) prices through its Refinery Services business.
According to GEL's recent investor presentation, approximately "75% of NaHS sales contracts indexed to NaOH prices" while the "remaining ~25% have short-term mechanism to change pricing in response to changes in operating costs."
Article continues below advertisement
Genesis Energy's indirect commodity exposure
Midstream companies are indirectly exposed to commodity prices through production levels. If crude oil and natural gas prices continue to stay low, upstream producers might cut their production or even go bankrupt. These events could result in lower throughput volumes, lower earnings, and higher counterparty risk.
Genesis Energy's (GEL) crude oil volumes have been negatively impacted by production-related shut-ins in some regions and lower crude oil demand from some refineries.