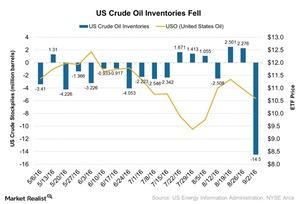 Crude Oil Prices Jumped as Inventories Fell
US crude oil inventories
According to the EIA's (U.S. Energy Information Administration) report on September 8, 2016, US crude oil inventories fell by 14.5 MMbbls (million barrels) for the week ended on September 2, 2016. The markets expected a rise of 0.4 MMbbls. In the previous week, inventories rose by 2.3 MMbbls. Crude oil (USO) (UCO) inventories have fallen steeply since 1999.
Generally, crude oil prices react positively to a fall in inventory levels. The United States Oil (USO) rose 4.2%, and the ProShares Ultra Bloomberg Crude Oil ETF (UCO) rose 8.4% on September 8, 2016, after the crude oil inventories report. Crude oil (BNO) (UWTI) also rose 4.7% on the same day. However, crude oil prices are trading in a narrow range due to speculation that OPEC (Organization of the Petroleum Exporting Countries) members and other major oil producers could cap production in September 2016.
Article continues below advertisement
Dollar movement
Crude oil prices are also impacted by the movement of the US dollar index (UUP). The dollar index fell in prior months due to the Fed's dovish stance. Now the expectations for a rate hike in September are increasing. Fed officials spoke in favor of an interest rate hike on Friday, September 9, 2016, which strengthened the dollar index. However, the S&P 500 Index (SPY) and the NASDAQ Composite Index fell 2.45% and 2.54%, respectively, on the same day. The stronger dollar hampers the movement of crude oil (UWTI).
In the next part of this series, we'll analyze Japan's 2Q16 GDP.