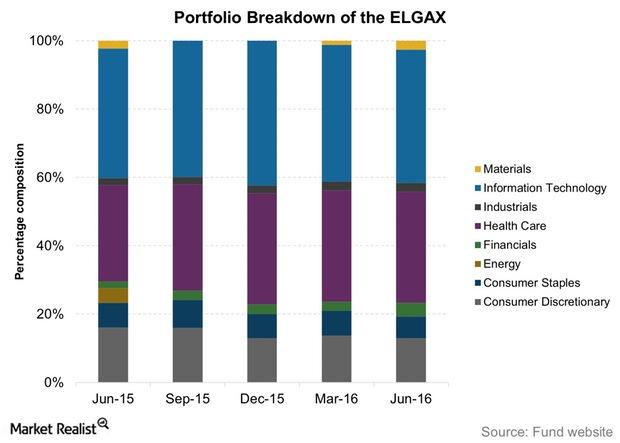 Columbia Select Large Cap Growth Fund: Sector Composition YTD 2016
By David Ashworth

Sep. 1 2016, Updated 8:05 a.m. ET
Columbia Select Large Cap Growth Fund overview
The Columbia Select Large Cap Growth Fund (ELGAX) invests at least 80% of its assets in common stocks of US-based and foreign companies with market caps in the range of companies in the Russell 1000 Growth Index.
Fund managers look for companies that they believe to have the potential for long-term growth. The fund has adopted a focused portfolio style. This means that it invests in a limited number of stocks. The fund may focus its investments in certain sectors, including the consumer discretionary, healthcare, and information technology and technology-related sectors.
Illumina (ILMN), Monster Beverage (MNST), Mobileye N.V. (MBLY), Vertex Pharmaceuticals (VRTX), and ServiceNow (NOW) were among the fund's 33 holdings at the end of July 2016. At that time, ELGAX was managing $5.5 billion in assets.
Article continues below advertisement
Portfolio changes in ELGAX
Information technology and healthcare are the sectors with the lion's share of ELGAX's portfolio. These two sectors combined to form 70% of the portfolio. Consumer discretionary is a distant third, with 14.6% of the fund's assets allocated to it. The fund is not invested in telecom services, utilities, and energy sectors.
Compared to the Russell 1000 Growth Index, the fund is overweight in the healthcare and information technology sectors. Meanwhile, it is noticeably underweight in the consumer discretionary, consumer staples, and industrials sectors.
We've looked at the quarterly portfolios of ELGAX for the past three years through June 2016. During this period, exposure to the consumer discretionary sector has been reduced sharply. The sector had formed 22% of the assets during the earlier part of this period, which is currently down to 15%.
On the other hand, staples have seen their share increase compared to three years ago. There has been a noticeable increase to the portfolio weight of healthcare stocks in the past three years.
With this portfolio positioning, how has the Columbia Select Large Cap Growth Fund – Class A (ELGAX) fared in year-to-date 2016 and why has it performed that way? Let's look at that in the next article.