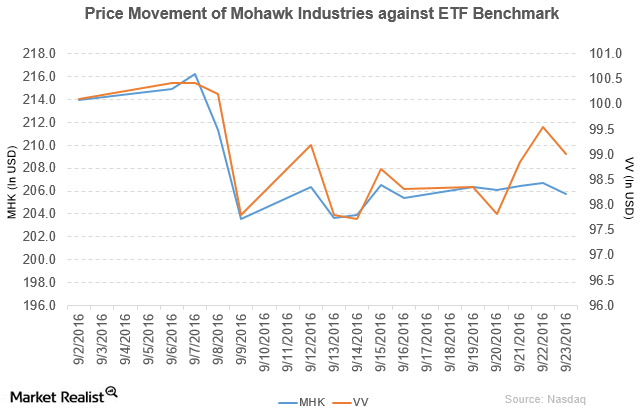 Bank of America Merrill Lynch Rates Mohawk Industries 'Neutral'
Price movement
Mohawk Industries (MHK) has a market cap of $15.3 billion. It fell 0.45% to close at $205.75 per share on September 23, 2016. The stock's weekly, monthly, and year-to-date (or YTD) price movements were 0.16%, -2.2%, and 8.6%, respectively, on the same day. MHK is trading 1.6% below its 20-day moving average, 1.1% below its 50-day moving average, and 7.5% above its 200-day moving average.
Article continues below advertisement
Related ETF and peers
The Vanguard Large-Cap ETF (VV) invests 0.06% of its holdings in Mohawk Industries. The ETF tracks a market-cap-weighted index that covers 85% of the market capitalization of the US equity market. The YTD price movement of VV was 7.5% on September 23.
The market caps of Mohawk Industries' competitors are as follows:
Mohawk Industries' rating
Bank of America Merrill Lynch has initiated the coverage of Mohawk Industries with "neutral" rating.
Performance of Mohawk Industries in fiscal 1Q16
Mohawk Industries reported fiscal 2Q16 net sales of $2.3 billion, a rise of 15.0% over the net sales of $2.0 billion in fiscal 2Q15. Sales from the Global Ceramic, Flooring North America, and Flooring Rest of the World segments rose 5.1%, 6.6%, and 50.7%, respectively, between fiscal 2Q15 and fiscal 2Q16. The company's gross profit margin and operating income rose 8.6% and 37.1%, respectively.
Its net income and EPS (earnings per share) rose to $255.2 million and $3.42, respectively, in fiscal 2Q16, compared with $186.5 million and $2.53, respectively, in fiscal 2Q15. It reported adjusted EPS of $3.47 in fiscal 2Q16, a rise of 29.0% from fiscal 2Q15.
Mohawk's cash and cash equivalents fell 34.5% and its inventories rose 4.3% between fiscal 2Q15 and fiscal 2Q16. Its current ratio and debt-to-equity ratio fell to 1.1x and 0.91x, respectively, in fiscal 2Q16, compared with 1.2x and 1.2x, respectively, in fiscal 2Q15.
The company has projected EPS in the range of $3.40 to $3.49 per share, excluding any restructuring charges, for fiscal 3Q16. Next, we'll take a look at Fortune Brands Home & Security (FBHS).