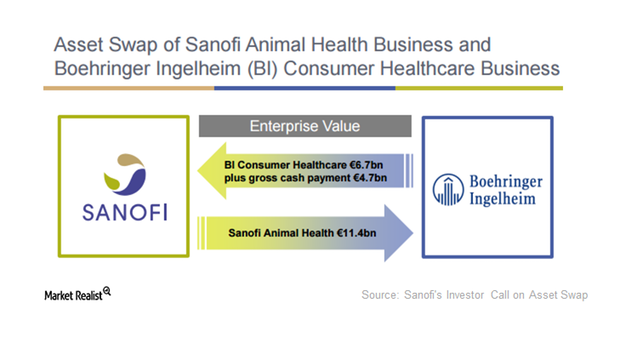 Analyzing Sanofi's Asset Swap Deal with Boehringer Ingelheim
Asset swap deal between Sanofi and Boehringer Ingelheim
Sanofi (SNY) is swapping its animal health, or Merial business, with Boehringer Ingelheim's consumer healthcare business. For details on the Merial business, read How Merial Contributes to Sanofi's Growth.
The asset swap deal was signed on June 27, 2016—it's expected to close by the end of 2016. According to the deal, Sanofi's animal health business was valued at 11.4 billion euros, while Boehringer's CHC (consumer healthcare) business was valued at 6.7 billion euros. This transaction will enrich Sanofi with 4.7 billion euros along with the CHC business in lieu of its animal health business.
Article continues below advertisement
Article continues below advertisement
How will the deal benefit Sanofi?
Sanofi has a strategic priority in the form of reshaping its human health business. Its valuation suffered due to falling sales and pricing pressure on its diabetic franchise. Sanofi expects its diabetic drug sales to fall by 4%–8% from 2015–2018. By freeing up cash from the transaction, Sanofi plans to use it for share repurchases.
Through this transaction, Sanofi will experience benefits in terms of an increased scale in the CHC business, value creation following synergies, and an accretive effect on earnings per share after 2017.
Competition in the animal health business
Other big pharmaceuticals that operate in the animal health business include Eli Lilly (LLY). It expanded its animal health business with the acquisition of Novartis' (NVS) animal health business. Pfizer (PFE) spun off its animal health arm, Zoetis (ZTS), in 2013. Later, it became a standalone company.
In this series, we'll look at the attractiveness of the CHC business that was added to Sanofi.
Please note that if you invest in the PowerShares International Dividend Achievers ETF (PID), you could gain exposure to Sanofi. PID holds 1.3% of its assets in Sanofi.