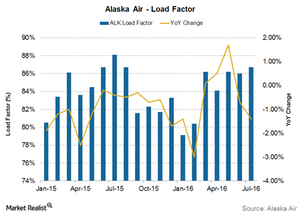 How Will Alaska Air Group's Strategy Impact Unit Revenues?
Declining utilizations
Load factor is the most commonly used measure of an airline's capacity utilization. It is calculated as revenue passenger miles divided by available seat miles. A higher load factor indicates better utilization of aircraft capacity.
Thus, if traffic growth lags behind capacity growth, utilizations will decline, which was the case with Alaska Air Group (ALK).
For July 2016, Alaska Air Group's utilization declined by 1.4% year-over-year (or YoY). ALK's load factor had also declined by 0.7% in June 2016, after three months of consecutive improvement in utilization.
Year-to-date through July 2016, ALK's utilization has declined by 0.8%. If utilizations continue to decline, ALK's unit revenues should be adversely impacted.
Article continues below advertisement
Declining unit revenues
Unit revenue is a measure of passenger revenue earned by the airline per available seat mile, also known as PRASM. Like other airlines in the industry, ALK's unit revenues have been declining. Its PRASM declined by 7.7% to ~10.8 cents for 1Q16 and 7.7% in 2Q16 to ~11.4 cents.
Foreign currency fluctuations and lower fuel surcharges in the international market should also adversely impact ALK's unit revenues.
Outlook
Alaska Air Group (ALK) does not give any future unit revenue guidance. However, we can expect the PRASM's decline to continue, given the fact that the increasing competitor and oversupply situation continues to plague the industry.
ALK's legacy peers—Delta Air Lines (DAL), American Airlines (AAL), and United Continental Holdings (UAL)—expect their unit revenues to decline. The strengthening dollar and lower fuel surcharges are expected to pressure these airlines' unit revenues. DAL has already reported a higher-than-expected decline for July 2016, which sent US airline stocks tumbling yesterday.
Alaska Air Group (ALK) forms ~1.4% of the iShares S&P Mid-Cap 400 Growth ETF's (IJK) holdings.