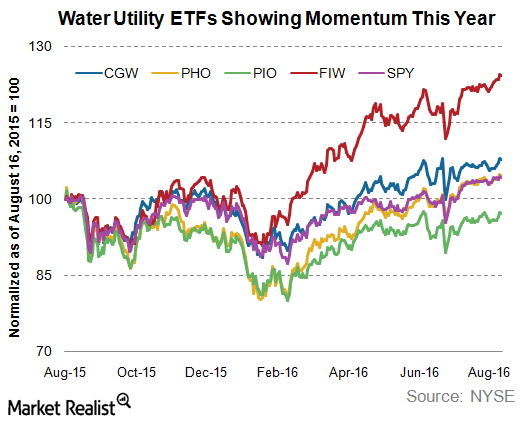 Why Do Water ETFs Yield More Than Water Utilities?
Water utility ETFs
Water utility ETFs (exchange-traded funds) yield roughly 100–150 basis points more than what water utility holding companies yield. A major part of the incremental yields that water ETFs obtain likely comes from their investments in the industrial sector.
The chart above shows the comparative price movement of water ETFs during the past year. The Guggenheim S&P Water Index ETF (CGW), the PowerShares Water Resources Portfolio (PHO), the PowerShares Water Resources Portfolio (PIO), and the First Trust ISE Water Index ETF (FIW) are four leading water utility funds that invest in water-related businesses in the US and beyond.
But although these ETFs have gained some ground in 2016, their one-year returns are more or less flat and have underperformed broader equities.
In the next part, we'll take a look at the recent sentiments of institutional investors.
Article continues below advertisement