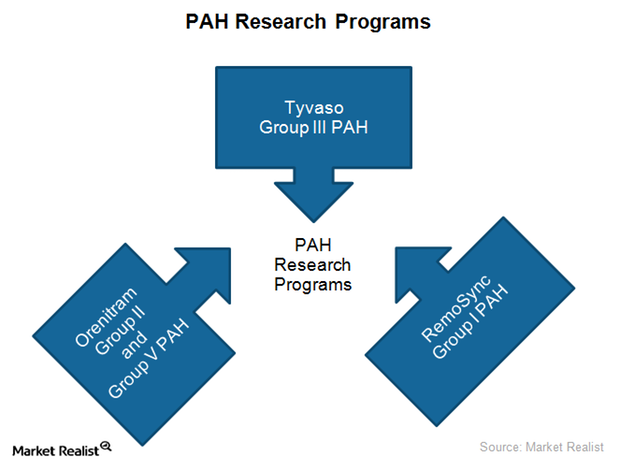 United Therapeutics' Research Efforts Key to Boosting Stock
Classic corridor of indifference
While multiple drugs such as Gilead Sciences' (GILD) Letairis, GlaxoSmithKline's (GSK) Flolan, and Teva Pharmaceutical's (TEVA) generic version of Flolan are available for Group 1 pulmonary arterial hypertension (or PAH) patients, there are currently no approved drugs in the market for Group 2, 3, or 5 PAH patients.
United Therapeutics (UTHR) considers these patient populations with unmet demand to be a classic corridor of indifference: a segment that other companies seem to have ignored. The company believes that it can magnify the rate of its future growth by focusing its research pipeline on this classic corridor of indifference. Additionally, United Therapeutics is focused on further strengthening its position in the Group 1 PAH market.
If United Therapeutics manages to be successful in its research efforts, its share price could rise along with the price of the iShares S&P Mid-Cap 400 Growth ETF (IJK). United Therapeutics makes up about 0.74% of IJK's total portfolio holdings.
Article continues below advertisement
Article continues below advertisement
Tyvaso Group 3 PAH
United Therapeutics plans to explore the inhaled prostacyclin drug Tyvaso as a therapy for Group 3 PAH. The company is currently enrolling 35,000 Group 3 PAH patients as test subjects for the Phase 3 trial.
With no drug available for this patient population or even under development, if Tyvaso succeeds in demonstrating efficacy and safety in these trials, it could propel United Therapeutics' share prices to significantly higher levels in future quarters.
Orenitram Group 2 and Group 5 PAH
United Therapeutics has planned to explore the use of its oral trepostinil pill Orenitram for Group 2 and Group 5 PAH. At the Wedbush PacGrow Healthcare Conference, United Therapeutics explained Group 2 PAH as "pulmonary hypertension as a result of left ventricular diastolic dysfunction, specifically in the presence of high ejection fraction."
At this conference, the company also explained Group 5 PAH as "pulmonary hypertension secondary to sickle cell disease."
Article continues below advertisement
According to WebMD, "Red blood cells contain hemoglobin, a protein that carries oxygen in the blood. Normal red blood cells are round and flexible, which enables them to travel through small blood vessels to deliver oxygen to all parts of the body. Sickle cell disease causes red blood cells to form into a crescent shape, like a sickle. The sickle-shaped red blood cells break apart easily, causing anemia. Sickle red blood cells live only 10-20 days instead of the normal 120 days. The damaged sickle red blood cells also clump together and stick to the walls of blood vessels, blocking blood flow. This can cause severe pain and permanent damage to the brain, heart, lungs, kidneys, liver, bones, and spleen."
Since pulmonary hypertension patients with sickle cell disease have a very high mortality rate, United Therapeutics believes that the market for therapies could prove a significant growth opportunity for Orenitram. Clinical trials studying Orenitram for Group 2 and Group 5 PAH are expected to commence in 2018.
RemoSync Group 1 PAH
Based on positive feedback from an FDA review meeting, United Therapeutics plans to launch its implantable Remodulin pump, RemoSync, in 2017. To know more about RemoSync, please refer to How Will Remodulin Sales Fare in 2Q16?
The company also plans to submit its second generation Remodulin drug, which will be administered subcutaneously, for review in 2017. This drug is based on acoustic wave sensing and is expected to demonstrate high efficacy and safety as therapy for Group 1 PAH patients.
In the next article, we'll explore additional novel research programs by United Therapeutics.