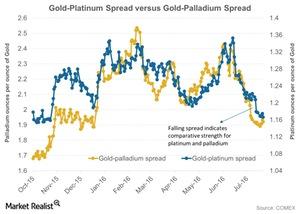 Understanding the Platinum and Palladium Cross Rates
By Meera Shawn

Updated
Precious metals fell
Gold plummeted on Monday, and it also took its other three precious metal counterparts (silver, platinum, and palladium) along with it. These three metals also retreated due to the possibility of a sooner-than-expected rate rise that the hawkish Fed stance hinted at. Palladium remained the biggest loser on Monday with a fall of 2.4%, closing at approximately $692. Platinum dropped 0.91% and closed at $1,108.2 per ounce. Silver also retreated 2.4%, only a little less than palladium, and ended the day at approximately $19 per ounce.
Article continues below advertisement
The comparative performance of these four precious metals can be viewed through cross-commodity rates. The three cross-commodity rates that precious metal investors closely track are the gold-silver spread, the gold-platinum spread, and the gold-palladium spread. We'll focus on the gold-platinum and gold-palladium spreads in this article.
Cross rates
The gold-platinum and gold-palladium spreads measure the number of platinum and palladium ounces it takes to buy a single ounce of gold. Although this spread has seen its ups and downs over the past few months, the Brexit vote resulted in some relative strength for platinum and palladium, which was evident in falling cross-commodity rates. Once again, however, these metals are taking over gold, thus increasing spreads.
Article continues below advertisement
The gold-platinum and the gold-palladium spreads were at 1.2 and 1.9, respectively, on August 22, 2016. Fluctuations in these precious metals are closely reflected in funds such as the Physical Platinum Shares (PPLT) and the Physical Palladium Shares (PALL). These two funds rose 23.4% and 22.6%, respectively, year-to-date.
The only precious metal miners that rose on Monday include Agnico Eagle Mines (AEM), Franco-Nevada (FNV), and Alacer Gold (ASR).
RSI level
As these metals have been falling over the past few months, their RSI levels have fallen substantially. The RSI for platinum and palladium was 46.2 and 53.6, respectively. A level above 70 indicates that an asset has been overbought and could fall. A level below 30 indicates that an asset has been oversold and could rise.