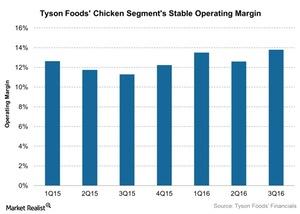 How Is Tyson Foods Improving Its Chicken Operating Margin?
Improved performance of the Chicken segment
For the last few quarters, the credit for Tyson Foods' (TSN) improved performance goes to the Chicken segment. The Chicken segment has been showing higher and stable margins, as the company has restructured this business. Operating margins have improved in the Chicken segment since fiscal 1Q15.
In fiscal 3Q16, the Chicken segment reported an operating margin of 13.9% with an improved product mix. Value-added sales grew by 5% in the third quarter, while commodity sales fell by 10%. This helped the average selling price increase by 40 basis points during the quarter, despite a fall in volume by 90 basis points.
Article continues below advertisement
Restructured Chicken business
Tyson restructured its Chicken business by optimizing its cost structure. The company invested in operations with good ROIC (return on invested capital) projects and also got rid of $1 billion of inefficiencies from the business. Tyson Foods has also diversified its pricing structure by focusing on grain-based mechanisms. Further, the company has upgraded its product mix to more value-added branded products. This is mainly intended to meet demand from the retail and food service customers. The last strategy employed by the company is the buy versus grow strategy.
Expectations for fiscal 2016 and 2017
For the Chicken segment, the company expects lower feed costs of ~$175 million in fiscal 2016, compared to feed costs in fiscal 2015. This is based on current futures prices, according to data from the U.S. Department of Agriculture. This segment is projected to deliver an operating margin of more than 12%. For fiscal 2017, the operating margin expectations are the same.
Tyson Foods' peers in the food industry include Pilgrim's Pride (PPC), Hormel Foods (HRL), and Sanderson Farms (SAFM). They reported gross profit margins of 14.1%, 22.8%, and 16.4% in their last respective quarters. Tyson Foods' stock accounts for 1.3% and 1.2% of the iShares Morningstar Mid-Cap ETF (JKG) and the Vanguard Mid-Cap Value ETF (VOE).