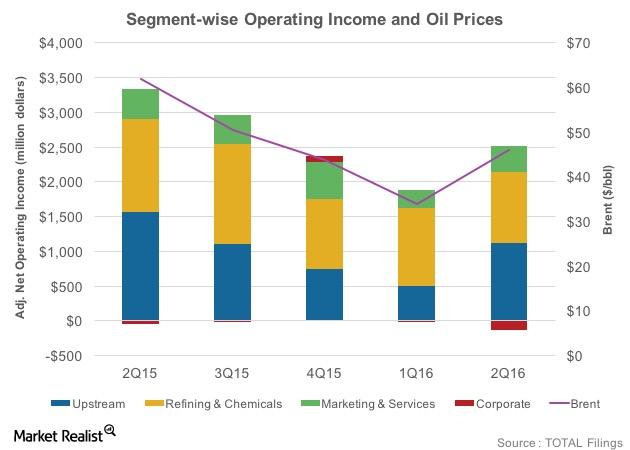 Total's Segments: Upstream Earnings Plunge but Stay Positive
Total's segments
Changing oil prices have changed the dynamics for Total's (TOT) segments. Although upstream earnings have declined in 2Q16 YoY (year-over-year), they stayed positive in the quarter. This is very different that its peer Royal Dutch Shell (RDS.A), which witnessed a loss in its upstream segment in 2Q16.
Total's net adjusted operating earnings from the upstream segment have fallen steeply by 28% from 2Q15 to $1.1 billion in 2Q16. This was due to lower crude oil prices, partially offset by increased hydrocarbon production and reduced operating and exploration costs. Brent crude oil prices, which averaged $62 per barrel in 2Q15, fell to $46 per barrel in 2Q16.
Article continues below advertisement
TOT's downstream earnings
Total's (TOT) Refining & Chemicals segment's operating income fell by 25% from 2Q15 to $1.0 billion in 2Q16. The fall in Total's downstream earnings in 2Q16 was due to lower refining utilization rates and a decline in refining margins YoY.
Total's ERMI (European refining margin indicator) fell by 35% from 2Q15 to $35 per metric ton in 2Q16. The fall was partially offset by a positive petrochemical environment.
Total's Marketing & Services segment's net adjusted operating income fell by 11% from 2Q15 to $378 million in 2Q16. This was led by a decline in sales of petroleum products in areas other than Europe.
While Total's (TOT) overall net adjusted operating earnings fell from $3.3 billion in 2Q15 to $2.4 billion in 2Q16, all the segments have posted positive earnings.
Segmental performance of Total's peers
The segment dynamics for Total's peers have also changed, which was evident in the previous quarter's results. Petrobras (PBR), Chevron (CVX), and BP (BP) reported losses in their upstream segments in 1Q16. The iShares North American Natural Resources (IGE) has ~22% exposure to integrated energy stocks.