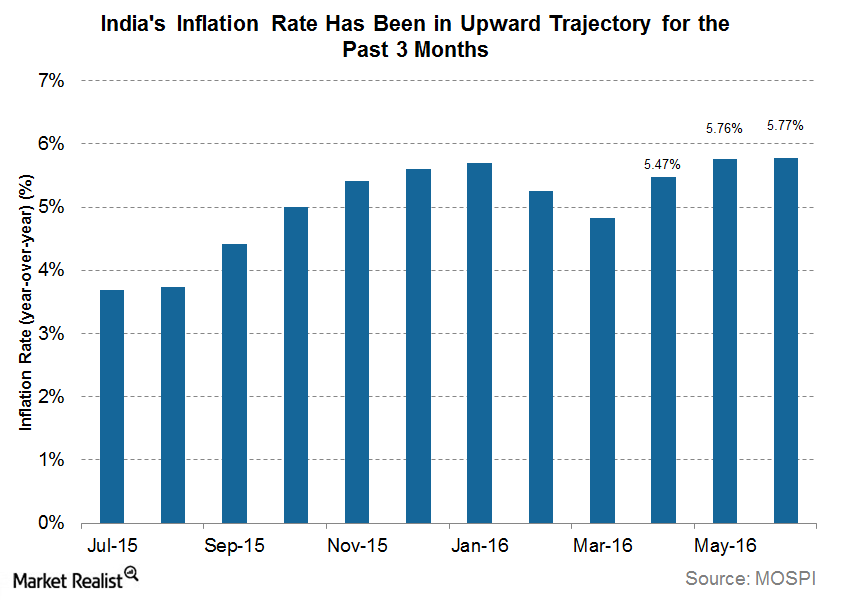 Rajan to the Rescue: The Inflation Story
"My name is Raghuram Rajan and I do what I do." – Raghuram Rajan, Reserve Bank of India Governor, 2015
A pro-growth environment, stable inflation and affordable credit are all crucial for Modi's policies to succeed. This is where Raghuram Rajan and the RBI come in. We had the pleasure of meeting Rajan on our latest trip. As we expected, Rajan spoke eloquently on a wide range of economic issues. But we were surprised to learn that he had a crucial Central Bank meeting following our meeting. The fact he had taken time out to meet us spoke volumes about his character.
Article continues below advertisement
Article continues below advertisement
Modi, who is apparently not taken to praising people, has publicly referred to Rajan as his guru. Modi certainly has much to thank him for. One way to think about India today is to compare the country with the U.S. in 1980. The similarities are uncanny. In 1979, Jimmy Carter appointed Paul Volcker to run the Federal Reserve and to fight inflation. The following year, Carter lost the election to Ronald Reagan, who led a series of sweeping reforms. Volcker and Reagan set the stage for a blossoming of America. In 2013, Manmohan Singh, India's then PM, appointed Rajan to run the RBI and fight inflation. The following year, Singh lost the election to Modi, who is pursuing India's most aggressive reform agenda in decades. The Rajan/Modi double act will do for India what Volcker/Reagan did for the U.S. in the 1980s.
Historically, the RBI has been perceived as a "pro-growth" central bank, but under Rajan it has become an "inflation-fighting" one. Rajan is the first Governor of the RBI to introduce an explicit inflation target. Furthermore, he has switched focus from targeting wholesale prices to consumer prices (CPI), the latter being the most hawkish possible measure of inflation. This target aligns perfectly with Modi's desire to help raise the real incomes of poor people.
Article continues below advertisement
Typically, inflation in India has been in the high single digits when times are good, jumping to the teens whenever the monsoon rains fail and food prices go up. In a country where 99% of the population are desperately poor and pay no income tax, this matters because inflation is a pernicious tax – it hits poor people hardest. Rajan successfully curbed inflation from 9.8% in September 2013 to a low of 3.8% in July 2015 based on the CPI measure, according to Trading Economics. The fall in inflation and slowdown in China and other emerging markets gave Rajan freedom to cut base rates by 0.5% in September to boost growth.
India has historically been vulnerable to swings in food prices, a major component of CPI. Despite this, food inflation was kept under control during two consecutive poor monsoons. Modi's government succeeded in distributing grain supplies to areas in need and managed to deter hoarding. Since last summer; however, inflation has risen consistently driven by high food price inflation –11.6% in December 2015 alone. This has resulted in a 5.6% year-on-year increase in CPI in December 2015 – near the top end of the RBI's 4%+/-2% range. Weather-related droughts have limited food supply and constraints relating to agricultural productivity and food distribution have compounded the problem.
Article continues below advertisement
Article continues below advertisement
Rajan's three-year term ends in late 2016, but he may extend it for up to two years. There has even been speculation that Modi could offer him the position of Finance Minister. It is not clear yet what Rajan's wishes are. He will likely want to see some of his work through, particularly financial sector reform, taking advantage of the new monetary policy committee that will be in place at the RBI. However, the opportunity to become head of the IMF may prove a more attractive offer.
Market Realist – The above graph shows India's (EPI) (PIN) inflation rate over the last year. Consumer prices rose in India by 5.8% in June 2016 on a year-over-year basis. This marked an acceleration in inflation for three consecutive months. Inflation is now at its highest since August 2014. The rise in food costs due to monsoon issues has buoyed inflation in India (IFN) (INDA).
Raghuram Rajan plans to step down as governor of the RBI and return to academia in September 2016. With the government pro-growth, an incumbent governor is not as likely to keep as steady a grip on inflation as Rajan. This does not bode well for the economy.