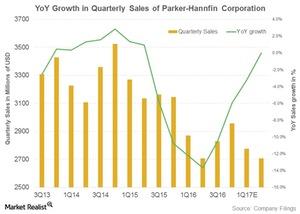 Parker-Hannifin Sales Fell in 4Q16: It Was No Surprise
By Shannon Black

Updated
Parker-Hannifin sales in 4Q16
In 4Q16, Parker-Hannifin's (PH) revenues fell 6% year-over-year to $2.96 billion and marginally eclipsed consensus estimates of $2.95 billion. In organic terms, sales fell 5.3%. The negative impact of currency translations led to a 1% decline in reported sales.
Parker-Hannifin's end markets are cyclical, and fortunes of the company are closely tied to demand dynamics in global industrial (IYJ) markets. As we've seen in the past two weeks for several of our industrials (XLI) sector companies such as Emerson Electric (EMR) and 3M (MMM), 2016 has followed 2015 in being the second consecutive year of slowing industrial activity. So a sales decline in Parker-Hannifin's business is no big surprise.
Article continues below advertisement
Parker-Hannifin's segment-wise sales performance
Parker-Hannifin is classified into three business segments: Diversified Industrials International (or DII), Diversified Industrials North America (or DIN), and Aerospace Systems. These segments represent 37%, 42.6%, and 20.4% of total 4Q16 sales, respectively.
Aerospace Systems was the only segment in which sales increased in the fourth quarter, by 2.2% to $602 million. The increase was related to robust sales to military customers both in the original equipment and aftermarkets departments. Sales to military customers constitute 35% of the Aerospace Systems segment with commercial customers' revenues accounting for the rest.
DIN, the largest segment, had the sharpest declines. Sales declined 10.8% to $1.3 billion. Reductions in revenues from the natural resource end markets continued to offset growth in other areas such as healthcare (IYH), life sciences, telecom (IYZ), and refrigeration.
Revenues in the DII segment fell 4.2% to $1.1 billion. Organic declines of 3% and a currency impact of 2% offset the acquisitive growth of 0.8%.