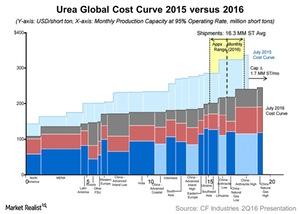 Why Nitrogen Prices Have Fallen So Hard this Year
Nitrogen supply
The global nitrogen fertilizer capacity is abundant, allowing it to fulfill the current market requirements. This has put pressure on nitrogen prices, which fell significantly over the past year.
To put this in perspective, average ammonia prices were down by about 38%.[1. Average yearly price at key US and international markets in the week ended August 19, 2016] Ammonia is a key input to other nitrogen fertilizers. Urea, which accounts for more than half (57% in 2015) of the total nitrogen fertilizer consumption, has seen its prices fall by 32% over the same period. Why have prices fallen?
Article continues below advertisement
Article continues below advertisement
Urea cost curve
Declining global raw material costs (represented in blue in the above graph) such as natural gas and Chinese coal, are key to nitrogen fertilizer prices' falling trend over the past year. North America, which enjoys low natural gas costs, is among the cheapest urea producers (MOO) globally, while China is the most expensive urea producer globally.
Therefore, a spike in the marginal urea monthly global demand (greater than 16.3 million metric ton in the chart above) will be supplied by China. China is the marginal producer in the above chart. The market selling price floor is set by the marginal producers.
Cost curve flattens
Let's compare the July 2016 cost of production for China, which is a marginal producer, with the same quarter last year. According to CF Industries (CF), China's cost of production, which is anthracite-based, has fallen by as much as 26%, or by $85 per metric ton. This explains why urea prices have fallen significantly this year.
CF Industries notes that in light of falling prices, Chinese producers have closed about 7.6 million metric tons of capacity in 2016.
CF Industries, Terra Nitrogen (TNH), PotashCorp (POT), and Agrium (AGU) all benefit from the low natural gas cost in North America. Shipping costs, represented by gray in the above graph, have also declined. This caused urea costs to fall more.
Next, we'll look at the demand outlook for nitrogen fertilizers.