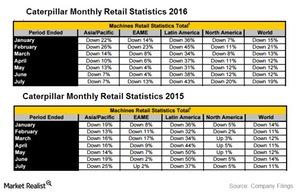 Investors Shouldn't Expect Near-Term Optimism from Caterpillar
Caterpillar's monthly retail statistics
Caterpillar (CAT) released its retail statistics for July on a three-month rolling basis on August 18. In its 2Q16 earnings call last month, the company estimated its sales in the third quarter to be $400 million–$500 million higher than its 1Q16 sales of $9.4 billion. However, Caterpillar's retail sales fell in July—the first month of the third quarter. The retail sales were four percentage points below the declines in January. Caterpillar's total machinery sales fell 19%—the second-largest monthly decline this year after February. The stock was down 1.7% in the pre-market on August 18 in response to this news.
Article continues below advertisement
Among its segments, retail sales in Caterpillar's resource industries unit, which houses the mining (PICK) equipment business, fell 42%. The respective figures in June, May, and January were declines of 30%, 27%, and 39%. Retail sales within the Construction (XHB) Industries segment were down 10% in July—compared to a fall of 7% in January. In Energy and Transportation, retail sales were down 24% in July—compared to 39% in January.
No near-term optimism for Caterpillar
At the Jefferies Industrial conference on August 11, Caterpillar's Energy and Transportation Group president, Jim Umpleby, stated that he doesn't expect any uptick in demand this year for the products in his segment. He added that "Oil prices, drill rig counts, and our customers' fleet utilization rates continue to remain low." In the second quarter, 80% of the declines in the Energy and Transportation segment came from the oil and gas and transportation businesses. The unit also houses the power generator and industrial businesses.
Key ETFs