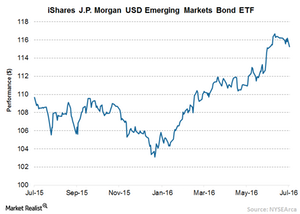 Intense Search for Yield Leads to Emerging Market Debt
3. International investing is not just about stocks.
While U.S. stocks have led other developed equity markets this year, some of the best performing bond markets have been outside the United States. For example, emerging market debt is up over 10% year-to-date (Bloomberg data). With interest rates in the United States at record lows and rates in other developed markets increasingly in negative territory, investors may want to look beyond traditional markets in search of yield.
Article continues below advertisement
Article continues below advertisement
Market Realist – Emerging market debt
Under the current uncertain economic circumstances, investors flocked to emerging market (EEM) (IEMG) debts in search of higher yields. The Institute of International Finance estimates fund inflows worth $10.2 billion into emerging market debt in July. Bank of America Merrill Lynch data showed inflows of about $14 billion over the past four weeks, the longest period of buying in the last two years.
Handsome returns
While most developed countries have remained laggards, developing countries such as Brazil and South Africa have posted higher returns in recent months. Overlooking the slowing economic growth in these countries, investors flocked to buy their sovereign bonds. Bank of America Merrill Lynch data showed that Brazilian government bonds have risen 21% year-to-date, while yields have fallen to the lowest level since 2015.
Article continues below advertisement
Venezuelan bonds have also risen handsomely with a YTD (year-to-date) total return of 31.5% in dollar terms for bonds maturing in 2019. The Venezuela EMBI Global Diversified Index bond spread crossed 24% over U.S. Treasuries. Overall, emerging market debt (VWOB) spreads over US government bonds appear attractive, providing an average 0.6% higher returns.
ETF performances
ETFs tracking emerging markets have outperformed the broader developed markets. The iShares JPMorgan USD Emerging Markets Bond (EMB) has risen 9% YTD. It has risen 11.8% since its low in mid-January 2016. Similarly, the VanEck Vectors EM Local Currency Bond ETF (EMLC) has risen 10.5% YTD.
Investors flocked to emerging markets since they saw very little alternative investment opportunities elsewhere, especially in developed countries. Although the risk is high in some emerging markets, emerging markets are offering attractive yields in a market that's flooded with negative yields.