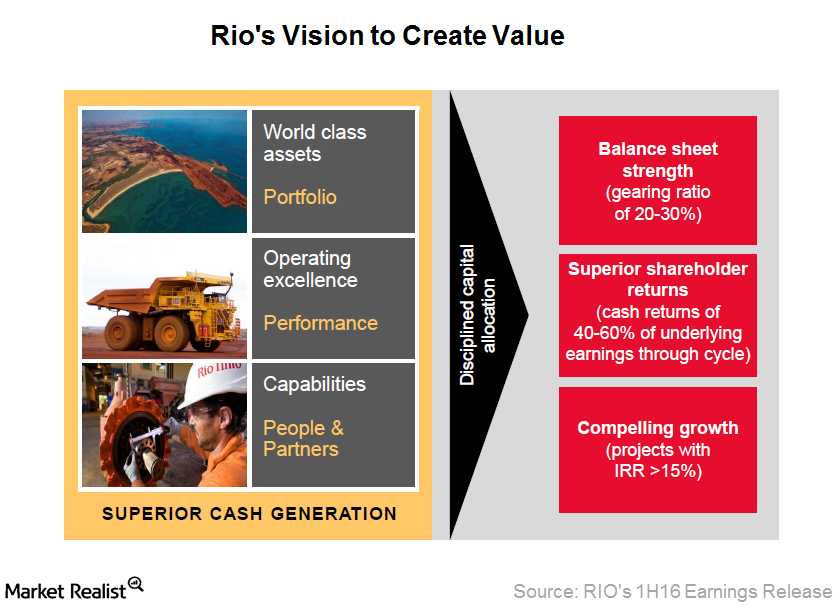 Rio Tinto's Earnings during 1H16 Were Driven by This
Earnings higher than expectations
Rio Tinto (RIO) (TRQ) reported its 1H16 results on August 3, 2016. Its underlying earnings came in at $1.6 billion, 7% ahead of consensus expectations of $1.5 billion. Its underlying EBITDA (earnings before, interest, tax, depreciation, and amortization) was also 1% higher than market expectations at $5.4 billion. In addition, the company declared a dividend of $0.45 per share.
In addition, the company declared dividends of $0.45 per share.
Stronger-than-expected results in the Aluminum and Energy & Minerals segments were offset to some extent by the Copper & Diamonds and Iron Ore divisions.
RIO has achieved $6.8 billion in pre-tax cost savings compared to 2012. It has also reiterated its target of delivering $2 billion worth of pretax savings over 2016 and 2017.
Article continues below advertisement
Article continues below advertisement
Approval of Silvergrass
One significant announcement made by the company on August 2, 2016, was related to the approval of its Silvergrass project. This project will increase Pilbara production by 10 million tons per year. With all of its major projects now approved, Rio should reap the benefits of growth in the medium to long term. We'll discuss this project in more detail later in our series.
CEO's vision
The Market was interested in knowing the new CEO's focus and priorities for the company. He reiterated the following priorities:
retaining a strong balance sheet with a gearing ratio of between 20% and 30%
returning 40%–60% of underlying earnings to shareholders through the cycle
investing in high-return projects with internal rates of return higher than 15%
In this series, we'll analyze RIO's 1H16 earnings. We'll also discuss its management's business outlook and how it's trying to position the company in this falling commodity price (COMT) environment.
Investors looking to diversify the risk of investing in single securities can consider the SPDR S&P Global Natural Resources ETF (GNR). Almost one-quarter of GNR's holdings are invested in metal companies. Together, BHP Billiton (BHP) and Rio Tinto form ~6% of GNR's portfolio.