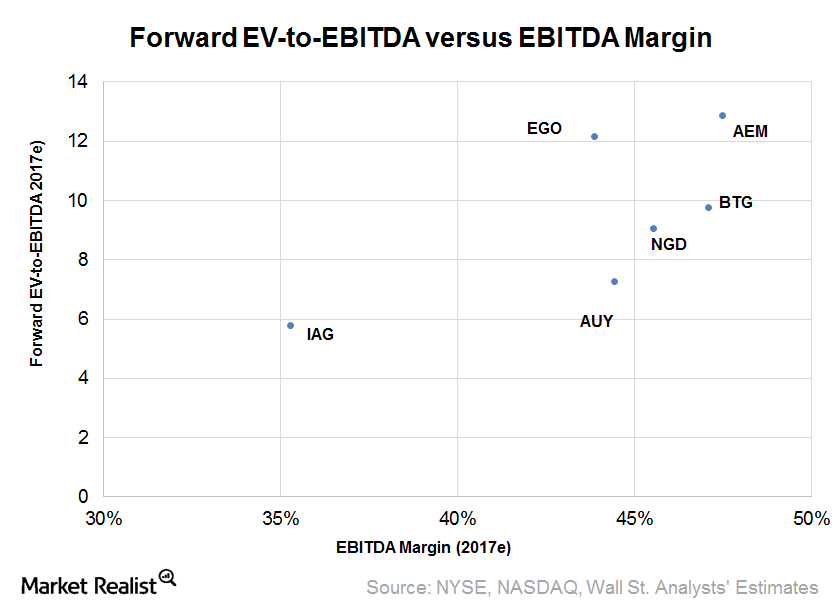 What Could Drive IAMGOLD Corp.'s Valuation Going Forward?
EV-to-EBITDA multiple
The EV-to-EBITDA (enterprise value to earnings before interest, tax, depreciation, and amortization) multiple is an important relative valuation multiple. It's generally used for capital-intensive industries such as gold mining.
With the help of relative valuation, we can calculate a company's valuation with respect to its closest peers' valuations. In this part of the series, we'll compare IAMGOLD's (IAG) forward EV-to-EBITDA valuation multiple with its historical averages and the multiples of its major peers.
Article continues below advertisement
Article continues below advertisement
Lower multiple than peers
IAMGOLD has consistently traded at lower multiples than its peers. Currently, it has a 2017 EV-to-EBITDA multiple of 5.8x, which is 40% lower than the peer average.
Agnico Eagle Mines (AEM), New Gold (NGD), Eldorado Gold (EGO), and B2G Gold (BTG) are currently trading at multiples of 12.9x, 9.0x, 12.1x, and 9.8x, respectively.
IAMGOLD's low EV-to-EBITDA multiple is probably due to its higher-than-average all-in sustaining costs and concerns regarding production falls in the medium term. As you can see in the above graph, IAMGOLD has the lowest EBITDA margin among its peer group. This is mainly due to higher costs, which results in a lower valuation multiple.
Key going forward
While IAG's balance sheet position is strong due to its large cash holdings, some issues have led to its discounted price compared to its peers. In addition to higher costs and lower margins, doubts regarding the successful ramp-up of its Westwood project worry investors.
IAG stock could continue to gain traction due to its high operational leverage, at least as long as the upward trend in gold prices continues. To restore fundamental investor confidence, IAG will have to deliver strong results on production improvement alongside cost curtailment. Investors will also be looking forward to the successful ramp-up of its Westwood mine.
The SPDR Gold Trust ETF (GLD) mirrors the performance of gold prices. Investors can invest in GLD to gain exposure to gold.