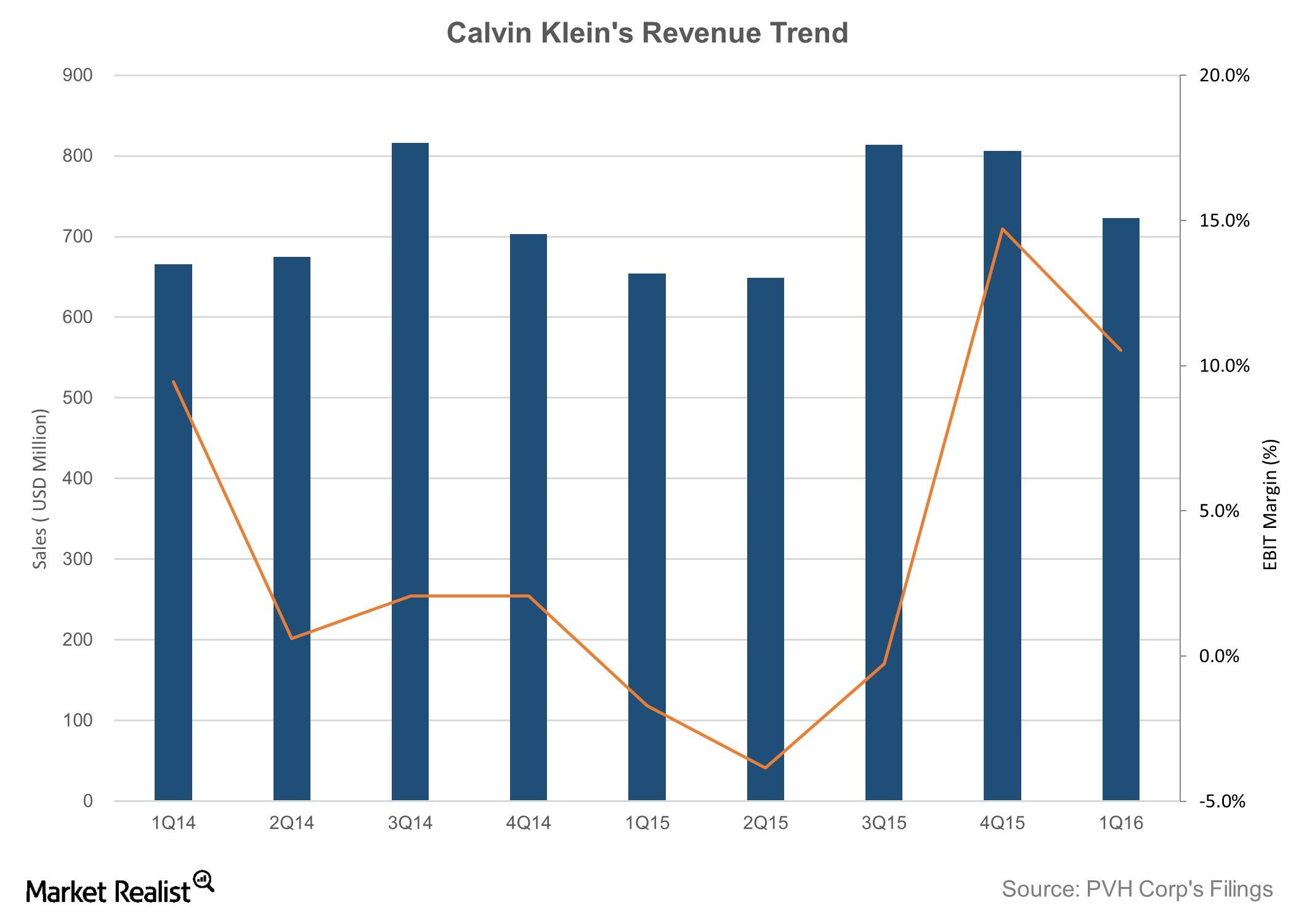 Can Calvin Klein Drive PVH's Sales Growth in 2Q16?
The Calvin Klein brand
Among PVH Corporation's (PVH) three segments, Calvin Klein has been the best performer. The brand, which accounts for more than 37% of the company's total revenue, registered solid growth of 13% YoY (year-over-year) on a constant currency basis in 1Q16.
Article continues below advertisement
CK delivered robust performances in the United States and internationally
CK has a strong international presence, and it's been improving with each season. The business is showing strength across all major markets and product categories.
The brand's performance was exceptional in Europe in 1Q16, when it experienced double-digit retail comps and very healthy wholesale sales. It also remained strong in North America, where its revenue rose by 14% on a constant currency basis, driven by a 20% rise in North America wholesale.
CK holds a strong market position in the innerwear segment
The CK brand has a solid positioning in the men's underwear and women's intimates segments. During 1Q16, the brand reported market share gains and reached the number five position in bras and the number two position in panties in the department store sector. In men's underwear, CK continued to hold the number one position, touching a market share of over 30%.
In comparison, HanesBrands (HBI), a leading men's and women's basic apparel and innerwear company, reported a 3.2% YoY fall in sales in its last-reported quarter. The company's innerwear segment reported a 3.7% fall during the quarter.
Article continues below advertisement
What does PVH expect from CK in 2Q16?
PVH is optimistic about Calvin Klein's performance in 2Q16 and is looking for 13% growth in revenue in the segment on a constant currency basis. Currency headwinds are likely to continue throughout the year. After including currency impacts, CK's growth is expected to land at around 11%.
Index and ETF exposure
PVH makes up part of the S&P 500 Apparel and Accessories Index, along with Coach (COH), Hanesbrands, Michael Kors (KORS), and Ralph Lauren (RL).
Investors seeking to add exposure to PVH and the above-mentioned companies can consider the SPDR S&P 500 ETF (SPY), which invests 0.25% of its portfolio in these companies.