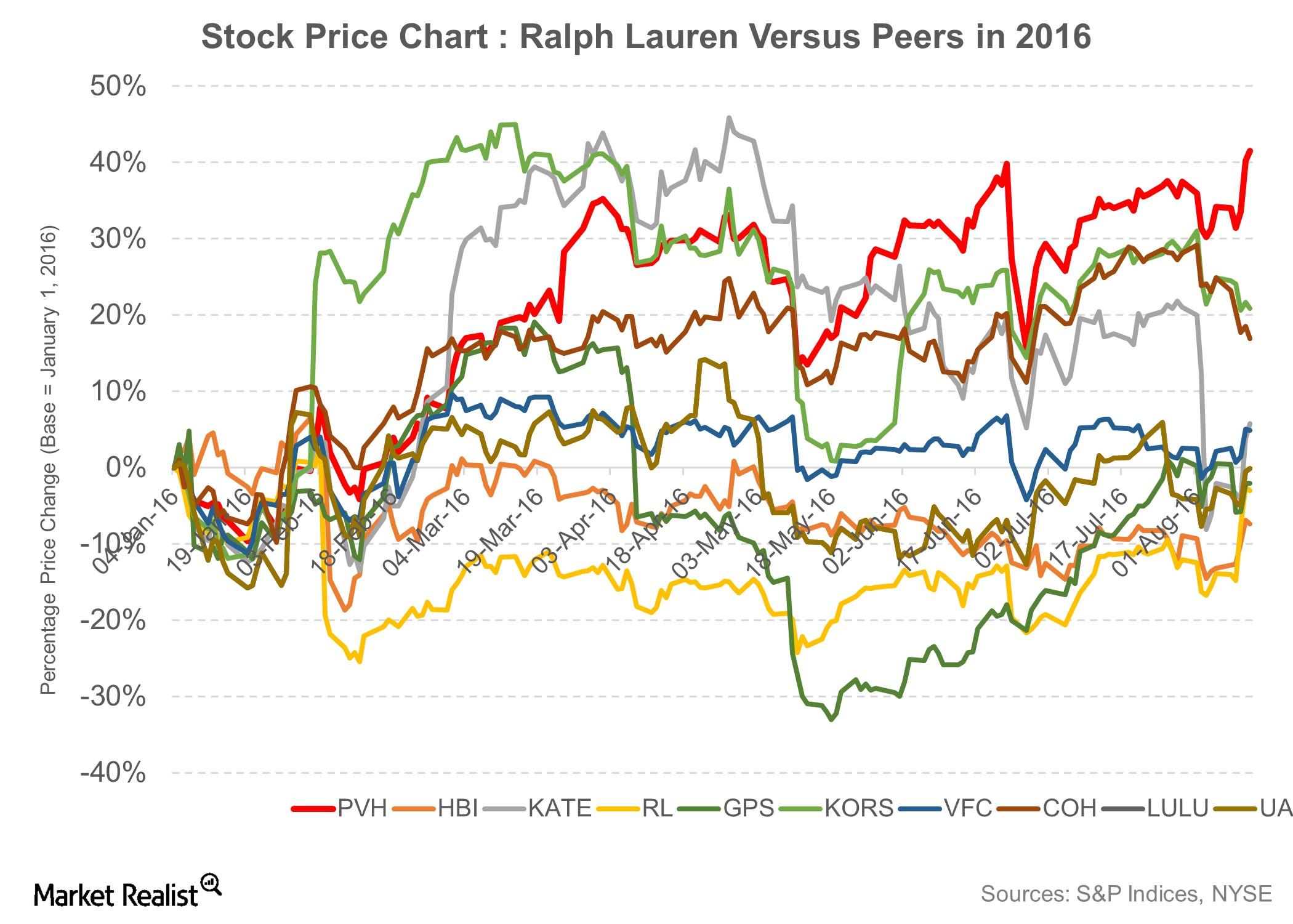 Better-than-Expected Earnings Support Falling Ralph Lauren Stock
Stock market performance
Ralph Lauren's (RL) stock price soared by 8.4% on Wednesday, August 10, as the company reported better-than-expected results. By August 12, the stock had gained ~13.8% as compared to its pre-earnings price of August 9.
On August 12, post-earnings gains brought down the YTD (year-to-date) losses of RL's stock to -3%.
Despite last week's gains, RL continues to be among the worst-performing companies of the S&P 500 Apparel and Accessories index companies. The S&P 500 Apparel and Accessories index is a seven-company index, comprising Ralph Lauren (RL), Hanesbrands (HBI), VF Corp. (VFC), Coach (COH), PVH Corp. (PVH), Michael Kors (KORS), and Under Armor (UA). The index has recorded YTD gains of 7.1%.
Article continues below advertisement
PVH Corp. (PVH) has shown the best performance, registering YTD gains of 41.5%. It is followed by Michael Kors (KORS), Coach (COH), and VF Corp. (VFC), which have gained 21%, 17%, and 5%, respectively, to date. Hanesbrands (HBI) and Under Armor (UA) have also recorded YTD losses of 7.4% and 0.1%, respectively.
Dividends and buybacks
Despite a decline in earnings, Ralph Lauren continues to hold $1.2 billion in cash and short-term investments on its balance sheet. The company's net cash (cash and equivalents minus debt) stood at $533 million at the end of fiscal 1Q17. This indicates the company's balance sheet strength, which has allowed the company to pay regular dividends and repurchase shares in order to boost investors' value.
During fiscal 1Q17, the company repurchased $100 million of its Class A common stock. It also announced $0.50 per share of quarterly dividends, in line with the previous quarter's dividend payment.
The one-year forward dividend yield on Ralph Lauren's stock stands at 1.9% as compared to VF Corp.'s 2.5% and Coach's 3.5%.
ETF investors interested in getting exposure to Ralph Lauren can consider the First Trust Large Cap Core AlphaDEX ETF (FEX), which invests 0.38% of its portfolio in the company.
Read the next part of the series to learn about the company's guidance and Wall Street's view on the stock.