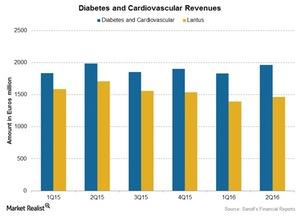 Behind Sanofi's Diabetes and Cardiovascular Performance in 2Q16
Diabetes and Cardiovascular franchise
Sanofi (SNY) has also reorganized its Diabetes and Cardiovascular franchise, making it one of the largest revenue contributors. However, the franchise's revenues declined by ~2% at constant exchange rates to 1.96 billion euros (about $2.21 billion) in 2Q16.
Article continues below advertisement
Diabetes
Diabetes declined by 6.7% to 1.9 billion euros (about $2.2 billion), mainly driven by lower sales of Lantus in US markets, partially offset by the launch of Toujeo in European markets. Other drugs in this franchise include Amaryl, Apidra, Insuman, Lyxumia, and blood glucose monitoring products.
Lantus, a long-acting human insulin used to treat type-1 and type-2 diabetes, is sold in over 120 countries and is the largest revenue contributor for this franchise. In 2Q16, Lantus sales were 1.5 billion euros (about $1.7 billion), which is nearly 80% of total diabetes sales.
Toujeo, a next-generation basal insulin, was launched in US markets in March 2015. It received EU approvals in April 2015 and was subsequently launched in Germany, Netherlands, and some Scandinavian countries. The drug has also been approved in Japan, Canada, and Australia. Toujeo is expected to be launched in over 40 countries by the end of 2016.
Sanofi has also launched Glargine, a biosimilar of Lantus, in Europe and Japan. Lantus competes with the drugs like Novo Nordisk's (NVO) Levemir and AstraZeneca's (AZN) Byetta. Notably, Eli Lilly (LLY) and Boehringer Ingelheim have jointly developed Abasaglar, a biosimilar of Lantus that is already approved in Europe.
Cardiovascular
Cardiovascular includes Praluent and Multaq. Praluent, an injection for lowering LDL cholesterol, was launched in collaboration with Regeneron in July 2015 in US markets, where it reported sales of 21 million euros (about $23.7 million) in 2Q16. Praluent was also launched in European markets at the end of 2015, where it reported sales of 3 million euros (about $3.4 million) in 2Q16.
Multaq, a drug for regularizing heartbeats as a treatment for atrial fibrillation, reported a revenue decline of 2.4% to 83 million euros (about $93.7 million) in 2Q16.
Notably, to divest risk, investors can consider ETFs like the PowerShares International Dividend Achievers ETF's (PID), which has 1.4% of its total assets in Sanofi.
Now let's discuss Sanofi's established prescription products.