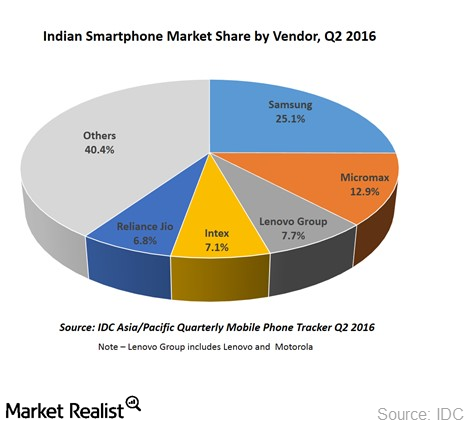 Why Apple's iPhone SE Isn't the Most Popular Choice in India
<p>India has become a very important market for Apple, as the firm has reported declining revenues in China in the last two quarters.</p>
Samsung continues to dominate the Indian smartphone market
According to IDC, India's (INDA) smartphone market grew 17.7% YoY (year-over-year) in 2Q16 with total smartphone shipments of 27.5 million units. In 2Q15, India's smartphone shipments rose 3.7% YoY.
As shown in the below chart, Samsung (SSNLF) continued to dominate the nation's smartphone market with a share of 25.1%, followed by Micromax, Lenovo (LNVGY), Intex, and Reliance. The Apple iPhone is still seen as a premium product in India's smartphone market, whereas the sub-$150 segment is much bigger.
Article continues below advertisement
Article continues below advertisement
"The premium segment (US$300+) saw vendor share movement rather than expansion as China based vendors made a significant expansion in this segment capturing around one-third of this segment in Q2 2016 from just 9% a year ago. OPPO's F1 Plus shipments grew further helping the vendor to gain reasonable share in a global vendor dominated segment," said Jaipal Singh, a market analyst at IDC.
The iPhone 5S continued to be Apple's (AAPL) most popular smartphone in India despite the launch of the iPhone SE early this year.
Why Apple is struggling to penetrate the Indian market
Per capita income in India is still low at $1,808. In comparison, China's per capita income stands at $7,989. Therefore, China has been able to support growing Apple sales over the last few years. In India, the iPhone is still viewed as a niche product that's out of the purchasing power of the average smartphone buyer.
Even though India's per capita income rose by 11.1% YoY in 2015, it will take a number of years for Apple to match the revenues it has generated from Greater China (FXI).
India is now a very important market for Apple after the firm reported declining revenues in China over the last two quarters.