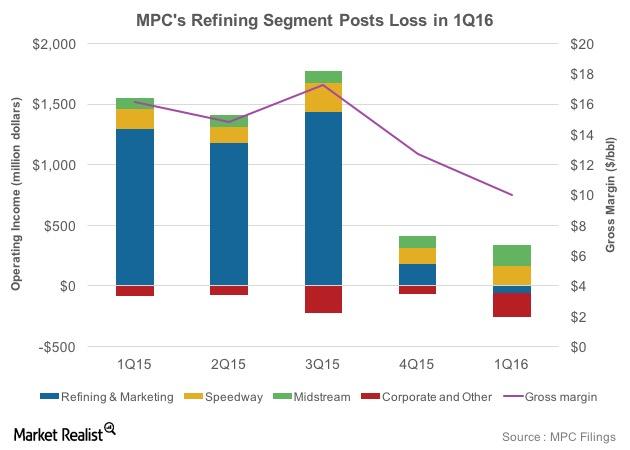 How Will Marathon Petroleum's Refining Earnings Shape Up in 2Q16?
MPC's refining earnings fell in 1Q16
Marathon Petroleum's (MPC) refining segment's operating income plunged to -$62 million in 1Q16 due to a fall in its gross refining and marketing margin. In 1Q16, MPC's operating income from Speedway fell by 1% to $167 million over 1Q15. The midstream segment's 1Q16 operating income rose by 86% over 1Q15 to $167 million.
MPC's peers Tesoro (TSO), PBF Energy (PBF), and Phillips 66 (PSX) saw their gross refining margins narrow by $2, $5.60, and $5.20 per barrel to $9.70, $5, and $7.10 per barrel, respectively, in 1Q16 compared to 1Q15.
The iShares North American Natural Resources (IGE) has ~6% exposure to refining and marketing sector stocks.
Article continues below advertisement
Article continues below advertisement
MPC's refining earnings outlook for 2Q16
According to MPC, a $1 per barrel change in the blended LLS (Light Louisiana Sweet) 6-3-2-1 crack spread affects its annual net income by $450 million. Similarly, a $1 per barrel change in the sweet-sour and LLS-WTI (West Texas Intermediate) affects its income by $220 million and $90 million, respectively.
In 2Q16, according to MPC, the blended LLS crack has risen $3.30 per barrel over 1Q16 to $7.70 per barrel. However, YoY (year-over-year), the crack has declined. The LLS-WTI spread also followed the same trend, rising on a sequential basis (or quarter-over-quarter) but falling on a yearly basis.
On the other hand, the sweet-sour differential has risen yearly as well as sequentially. The differential stood at $6.90 per barrel in 2Q16 compared to $6.70 per barrel in 1Q16 and $4.90 per barrel in 2Q15.
So the rise in all three indicators in 2Q16 compared to 1Q16 implies that MPC's refining earnings will improve on a sequential basis. But on a yearly basis, the rise in the sweet-sour differential will be offset by a fall in the LLS-WTI spread and blended LLS crack.