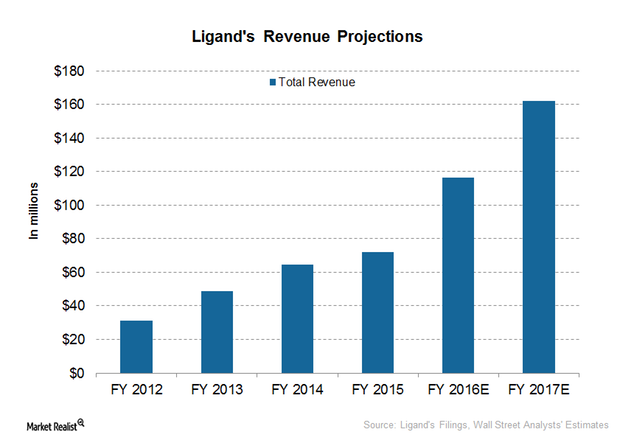 What Is Ligand Pharmaceuticals's Expected Revenue Growth in 2016?
Ligand's revenue growth
Ligand Pharmaceuticals (LGND) is a high-growth company with a comparatively low-risk business model. It earns most of its revenue from royalty and license fees.
The company's revenues have swelled from $31.4 million in fiscal 2012 to $71.9 million in fiscal 2015. In this article, we'll discuss how much revenue growth is anticipated for the company in fiscal 2016 and 2017.
Wall Street analysts have projected Ligand Pharmaceuticals's revenue to grow by 62.1% to reach $116.6 million in fiscal 2016 and a further 38.9% revenue growth in fiscal 2017.
Article continues below advertisement
Revenue growth
Ligand Pharmaceuticals's robust royalty revenue growth would be supported by the rising sale of two key drugs—Promacta and Krypolis. With an increase in the sale of these drugs, royalties earned by LGND would rise in proportion. Similarly, the recently approved Evomela might prove to be a key contributor to LGND's royalty revenue in coming years.
According to Ligand Pharmaceuticals's internal projections and sell-side analysts' estimates, the underlying products' revenue is expected to jump to $2.5 billion by fiscal 2017. LGND's blended average royalty rate of 3.5%–4.5% would fetch higher revenue for the company.
According to the company's guidance, its 2016 revenue should stand at $115 million–$119 million. The major royalty revenue contributor is Promacta, which was owned by GlaxoSmithKline (GSK). In July 2014, as Novartis (NVS) acquired Glaxo's oncology portfolio, the marketing and development rights of the drug went to Novartis.
Novartis believes the drug to be a key driver for its oncology business and expects it to be a blockbuster drug with sales crossing $1 billion. However, the drug faces a significant threat from Gilead Sciences's (GILD) Sovaldi.
If you are invested in the iShares S&P SmallCap 600 Index ETF (IJR), you can have exposure to Ligand Pharmaceuticals, as IJR holds 0.38% of its assets in LGND.
Continue to the next part to understand Ligand Pharmaceuticals's key drugs in detail.