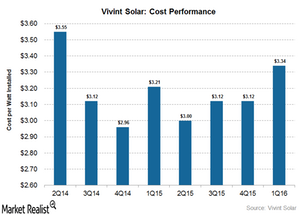 Vivint Solar's Key Operating Metrics: Must Watch for Investors
By Sheldon Krieger

Updated
Vivint Solar's cost per watt
Cost per watt is the sum of all operating costs incurred per watt of installed capacity in a particular period after considering cancellations. A lower cost per watt implies higher operational efficiency.
Vivint Solar reported its total cost per watt as $3.34 for 1Q16 compared to $3.12 in 4Q15. Uncertainty surrounding its net metering system increased customer acquisition cost for Vivint Solar and its peers Sunrun (RUN) and SolarCity (SCTY) in 1Q16. For fiscal 2016, VSLR expects its cost per watt to be $2.85–$2.95.
Article continues below advertisement
Estimated retained value
Estimated retained value represents the net cash flows (discounted at 6%) expected to be received from long-term customer contracts. That's after deducting cash distribution to fund investors and estimated operating expenses for systems installed as of the measurement date. Higher estimated retained value represents higher future cash flows from operations.
Vivint Solar's estimated retained value has consistently been on the rise over the quarters. However, it's QoQ (quarter-over-quarter) growth rate has been on the decline since 1Q15.
For 1Q16, VSLR reported an ERV (estimated retained value) of $1.0 billion, which grew at 12% on a QoQ basis compared to 14% in 4Q15.
ERV is sensitive to interest rates, so any future increase in interest rates could have a negative impact on ERV for VSLR and peers Sunrun and SolarCity and for the downstream operations of SunPower (SPWR).
MW booked
Megawatt booked includes the total capacity of solar (TAN) energy systems sold to customers or subject to an executed customer agreement after considering cancellations during the applicable period. Selling and marketing costs can be estimated using this operating metric.
For 1Q16, Vivint Solar reported its MW (megawatt) booked at 66 MW compared to 80 MW in 4Q15.