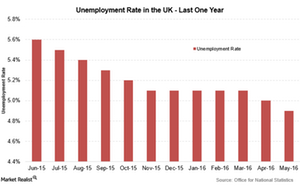 UK Unemployment Rate Improves, Brexit Concerns Remain
Unemployment rate fell to an 11-year low
The unemployment rate in the United Kingdom reached 11-year low levels as the jobless rate fell to 4.9% for the period from March to May—lower than 5% in the previous period. However, the unemployment rate is expected to rise in the coming months as the impact of the United Kingdom's exit from the European Union starts settling in. Even though the Bank of England is set to launch a package to boost the economic scenario after the Brexit vote, uncertainty is expected to impact consumer confidence and business sentiment. The iShares MSCI United Kingdom (EWU) rose by 0.65% on July 20 at 2:30 PM EST.
Article continues below advertisement
Swiss ZEW Economic Sentiment Index fell
Switzerland's ZEW Economic Sentiment Index fell to 5.9 in July—compared to 19.4 in the previous month. The incidence of volatility in European markets due to the Brexit vote and its impact on the Swiss economy led to the contraction in the index. The current conditions index fell to zero. The Vanguard FTSE Europe (VGK) and the iShares MSCI Switzerland Capped (EWL) rose by 0.83% and 0.66%, respectively, on July 20 at 2:30 PM EST.
German PPI continues to decline
Producer prices in Germany fell 2.2% in June on an annual basis—compared to a fall of 2.7% in the previous month. Producer prices were better than expectations of a 2.4% decline. On a monthly basis, the PPI (Producer Price Index) for Germany rose by 0.4%—in line with the previous month's increase and above the estimated growth. The fall in energy prices has been weighing on the PPI. Also, the depreciation of the pound against the euro after the Brexit vote led to concerns about an increase in deflationary pressures in the Eurozone. The subsequent fall in consumer prices will put pressure on the ECB to take more easing measures. The iShares MSCI Germany (EWG) and the iShares MSCI Eurozone (EZU) rose by 1.3% and 0.80%, respectively, on July 20 at 2:30 PM EST.