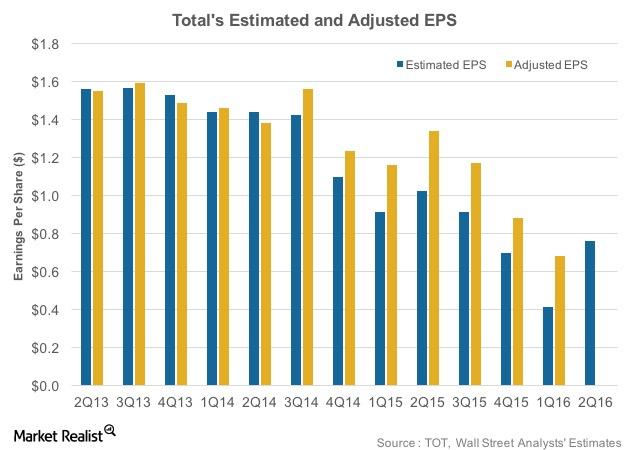 Total's 2Q16 Earnings Outlook: Will It Beat Estimates?
Total's 1Q16 results versus and estimates
Total SA (TOT) is expected to post its 2Q16 results on July 28, 2016. Before we proceed with its 2Q16 estimates, let's look at a recap of TOT's 1Q16 performance versus estimates.
In 1Q16, TOT's revenues of $27.5 billion surpassed Wall Street estimates. Its 1Q16 adjusted earnings per share (or EPS) stood at $0.68, around 65% higher than the estimated EPS of $0.41. However, it was 40% lower than the 1Q15 adjusted EPS.
Article continues below advertisement
Total's (TOT) net adjusted operating earnings from its upstream segment fell from $1.4 billion in 1Q15 to $0.49 billion in 1Q16 due to a steep fall in oil prices. TOT's Downstream segment's adjusted net operating income rose from $1.1 billion in 1Q15 to $1.13 billion in 1Q16. This was due to a rise in its petrochemical margin and partially offset by a fall in its refining margin.
Total's 2Q16 earnings estimates
Wall Street analysts expect Total (TOT) to post EPS of $0.76 in 2Q16. This is 12% higher than its adjusted EPS in 1Q16, but it was 43% lower than its adjusted EPS in 2Q15.
Earnings from Total's Upstream segment will likely improve due to firming oil prices in 2Q16 compared to 1Q16. Plus, the Downstream segment is likely to post a better performance in 2Q16. This is due to the fact that the refining cracks have widened in 2Q16 compared to 1Q16.
However, on a year-over-year basis, Total's earnings are expected to decline. Total's peers Petrobras (PBR), Suncor Energy (SU), and ENI (E), are also expected to post a decline in earnings in 2Q16 compared to 2Q15.
The PowerShares Dynamic Large Cap Value Portfolio ETF (PWV) has ~5% exposure to energy sector stocks.