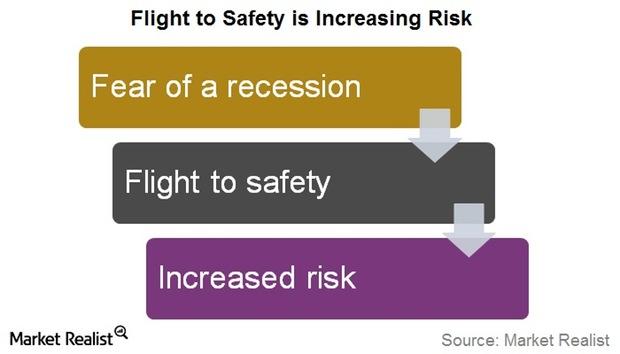 Richard Bernstein Discusses the Risk of Seeking Safety
Risk in safety
The title looks like an oxymoron. How can there be risk in safety? In his July 2016 Insights newsletter, Richard Bernstein stated, "Safe investments are safe until everyone wants them. Once they become popular, safe investments can become quite risky." Why did he say that?
The answer is simple: Overstocking any investment avenue or asset class makes it risky. For instance, making fixed income bonds and funds (BSV) (BIV) a part of your portfolio is important. But if too many people start seeking the safety of bonds, yields will plummet. And because of the inverse relationship between bond prices and yields, prices will surge.
Article continues below advertisement
Article continues below advertisement
Bond markets (TLT) (IEF) (SHY) provide shelter to distressed investors. But they're not immune to wild fluctuations. Like any other asset class, a surge in prices can lead to heightened volatility and speculation. It can increase the chances of an asset bubble, which would burst sooner or later. Also, with a lot of investors exposed to debt instruments, even a moderate decline in prices will hit a wide spectrum of investors hard.
Richard Bernstein provides instances
Providing instances for his "safety increasing risk" argument, Bernstein said that "2015's MLP debacle and the current problems in UK property funds may be the proverbial canaries in the mine shaft with respect to the riskiness of single-mindedly investing for income."
He expressed surprise that even after the aforementioned instances, fixed income investors are being quite complacent about the issue.
Bernstein added that he's not in the majority with his point of view. Most investors believe that investors are actually being bullish "because the stock market is vastly overvalued and the economy is on the precipice of recession."
In the next part, we'll look at Bernstein's research, which proves that investors are actually being risk-averse and not bullish.