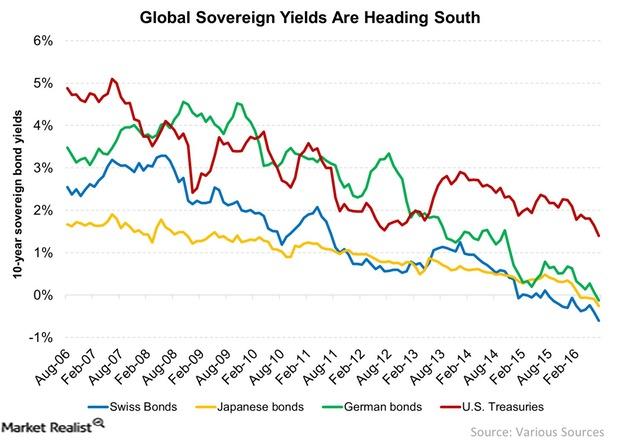 Low Yields: The Reason Lies outside the United States
3. The rest of the world looks far worse
Neither the level of nominal growth nor Fed policy fully explain today's bond yields. Instead, part of the answer lies outside of the United States. Over $10 trillion of sovereign debt currently trades with a negative nominal yield, as Bloomberg data shows. In the context of a global bond market, then, U.S. Treasuries appear to be a bargain. For example, based on monthly Bloomberg data, the historical correlation between German and U.S. 10-year government bond yields has been greater than 95%. This suggests that low global yields are playing a part in keeping U.S. rates down. With German 10-year yields at -0.15%, it becomes easier to understand why U.S. rates are where they are.
Article continues below advertisement
Article continues below advertisement
Market Realist – The reason for low yields lies outside the United States.
The graph above compares the yields on some safe-haven sovereign bonds. As you can see, global yields have been heading south over the last ten years. Many European ten-year bonds are trading in negative territory, which was unthinkable just a few years back.
The ten-year Swiss bond, for example, is trading at -0.6%. The ten-year German Bund is trading at -0.1%. The Japanese ten-year is trading at -0.3%.
Since divergence in central bank policies began in 2013, U.S. Treasury (TLT) yields have been yielding higher than other sovereign bonds, despite being on a downward trajectory.
While ten-year Treasuries (IEF) (UST) are testing all-time low levels at ~1.5%, they appear attractive compared to European and Japanese bonds. This is attracting foreign funds to Treasuries. This increased demand for Treasuries has caused yields to stay low. It has also put upward pressure on the dollar (UUP) since funds would keep flowing into the United States.
Read on to find out other factors that could likely keep rates lower for a while.