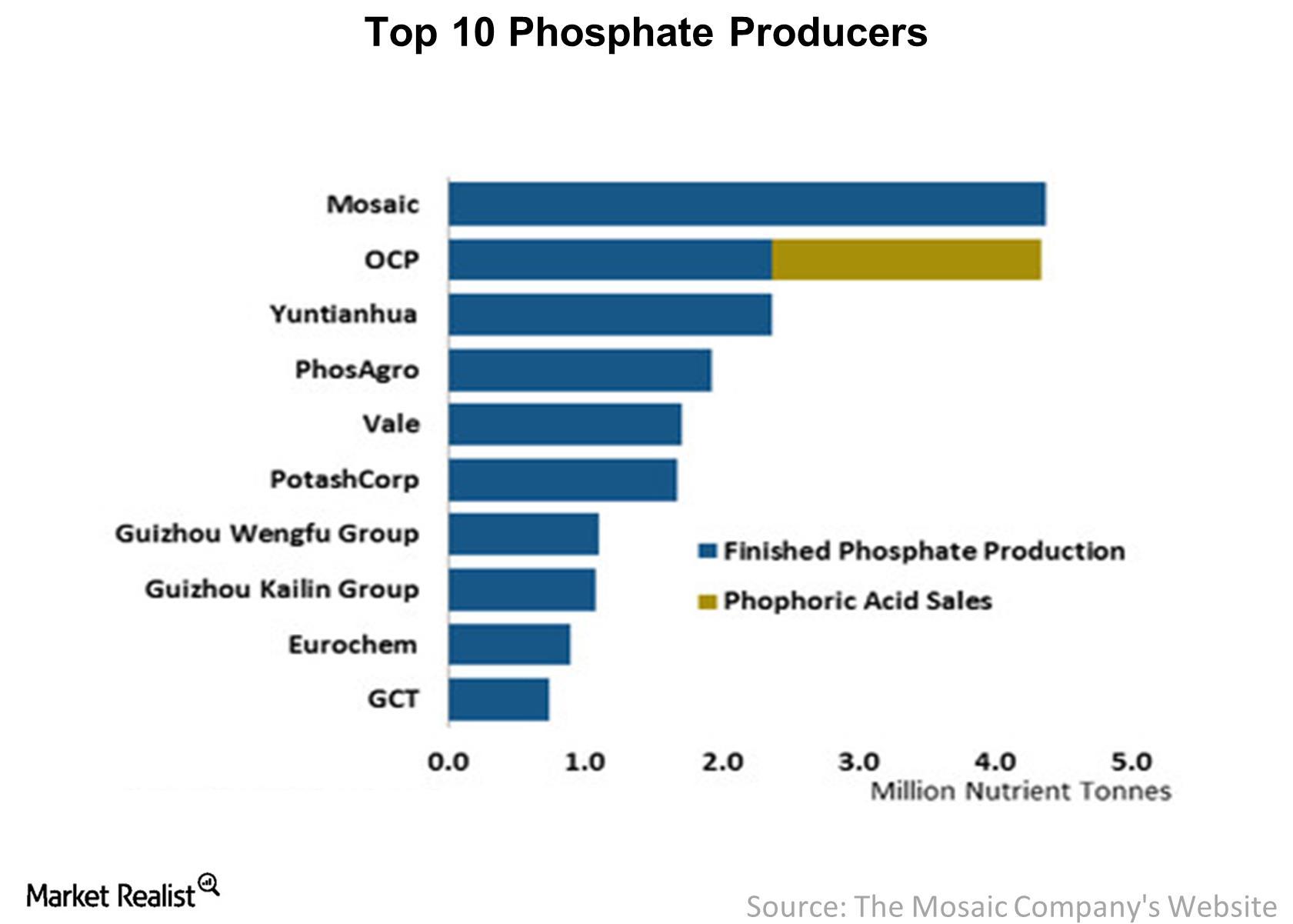 Phosphate Consumption Outlook and Top Producers to Serve the Market
Phosphate fertilizers
Phosphate fertilizers are the second-most-used NPK[1. nitrogen, phosphorous, and potassium] fertilizer after nitrogen.
The Mosaic Company (MOS), which acquired CF Industries's (CF) phosphate business in 2014, is the largest producer of phosphate globally. In 2015, Mosaic had the total operational capacity to produce 11.7 million metric tons of phosphate fertilizers.[2. Combined capacity of DAP/MAP/MicroEssential/Feed Phosphate]
This is followed by OCP (Office Chérifien des Phosphates), which is headquartered in Casablanca, Morocco. OCP has the capacity to produce 8 million metric tons in 2016.
Article continues below advertisement
Article continues below advertisement
Other top producers
Yuntianhua, headquartered in China, had the operational capacity to produce 6.6 million metric tons of phosphate products. Recently, Israel Chemicals (ICL) formed a joint venture with Yuntianhua to mine phosphate rock.
PhosAgro, headquartered in Russia, had an operational capacity to produce 4.7 million metric tons of phosphate fertilizers, according to OCP. Other producers include Vale, PotashCorp (POT), and Agrium (AGU).
Phosphate consumption outlook
According to the IFA (International Fertilizer Industry Association), about 186 million tons of NPK crop nutrients (MOO) are expected to be used in the 2015–2016 planting season. Of this, phosphorous fertilizers will account for 23%, or ~41.8 million tons, which would be a 1.1% growth YoY (year-over-year).
The global production capacity far exceeds the demand and has put downward pressure on prices. Let's look at it in more detail in the next article.