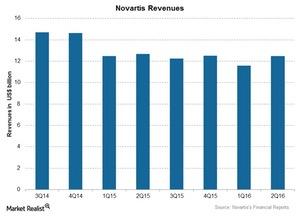 Inside the Foreign Exchange Impact on Novartis's Growth in 2Q16
By Mike Benson

Updated
Growth rate
Novartis (NVS) reported no change in revenues on a constant currency basis for 2Q16, as compared to 2Q15, in its earnings release on July 19, 2016. The company's 2Q16 revenues surpassed analyst estimates of ~$12.2 billion, and reported revenues came in at ~$12.5 billion.
The company's growth was affected by the negative impact of foreign exchange, mainly because nearly 50% of the company's revenues are reported from sales outside the United States.
Article continues below advertisement
Revenues by segment
Novartis has been divesting its business segments since 2014. Its Animal Health business was divested to Eli Lilly and Company (LLY), while part of its Vaccines business and Consumer Healthcare business went to GlaxoSmithKline (GSK), and its Influenza Vaccines business went to the CSL Group. The company also acquired GlaxoSmithKline's oncology business in March 2015.
The company has also restructured its segments. A few products from Alcon have been included in the Innovative Medicines segment, and a few mature pharmaceutical products have been reported under Sandoz since January 27, 2016.
The Innovative Medicines segment (formerly referred to as the Pharmaceuticals segment) reported a decline of 3% to ~$8.4 billion in 2Q16, as compared to ~$8.6 billion in 2Q15. This included an operational decrease of 1% and a 2% negative impact from foreign exchange.
Growth products
During 2Q16, growth products generated 45% of the segment's sales, while there was a negative impact of lower sales for products like Diovan monotherapy, Exforge, and Vivelle-Dot losing their share to the generic competition. (Details on these products and their therapeutic areas are discussed later in the series.)
Sandoz, the generic pharmaceuticals business of Novartis, reported a 2% growth in revenues at ~$2.6 billion for 2Q16, as compared to ~$2.5 billion for 2Q15. This included the growth of 3% in operational revenues, but ~1% negative impact from foreign exchange. Operationally, volume growth of 10% was offset by a decline of 6% due to price erosion.
Eye care
Alcon, the eye care division, reported a decline of 4% in its 2Q16 revenues, including a 2% decline in operations, with a 2% negative impact from foreign exchange. This segment reported revenues of ~$1.5 billion in 2Q16, as compared to ~$1.53 billion for 2Q15. Both the franchise and surgical and vision care products reported a decline in revenues during 2Q16, mainly due to strong competition from competitors including Johnson & Johnson's (JNJ) Acuvue range of products and products from Bausch and Lomb.
To divest risk, investors can consider ETFs like the First Trust Value Line Dividend ETF (FVD), which has ~0.5% of its total assets in Novartis.