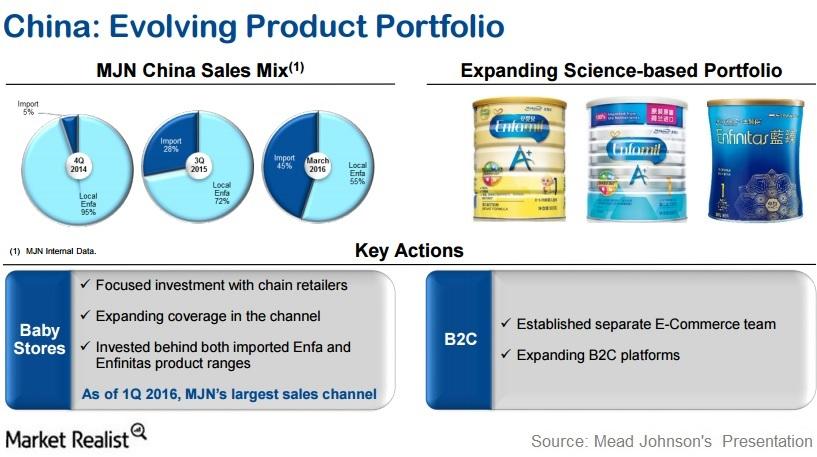 How Is Mead Johnson Improving Its Product Portfolio in China?
Regulatory changes
In the Deutsche Bank Global Consumer Conference held last month, Mead Johnson (MJN) discussed its China business and the regulatory changes related to it. China accounts for about a third of Mead Johnson's global business. Mead Johnson's product category is a highly regulated line of business, and the regulatory environment has tightened in China recently. The Chinese government has enforced uniform regulations governing sales of all Mead Johnson's products across all sales channels.
Management expects that by 2018 the tightening of regulations will be completed. By then, all the company's products allowed for sale in China will have to be pre-registered in that market and in full compliance with lower regulations.
The sales mix in China has changed drastically over a short period. The company adapted its strategy in China by reshaping its product portfolio to better serve consumer demand for product quality in imported products.
Article continues below advertisement
Article continues below advertisement
New premium price product line in China
At the end of March, Mead Johnson announced the launch of its new Enfinitas premium-priced product line in China. Mead Johnson expects this product to strengthen its competitiveness in the fastest-growing segment in China. This new launch is a part of the company's initiative to broaden its product portfolio. Enfinitas is specifically customized for the Chinese market. The product contains lactoferrin from the milk fat globule membrane, which is recognized to provide structural and functional benefits to infants. The company will discuss the product's progress in the upcoming 2Q16 earnings call.
Progress in China
The company is making progress in China in its Enfamil-branded line of fully imported products. These products accounted for 45% of the company's sales in Mainland China in the first quarter of 2016.
Mead Johnson's peers in the industry like McCormick & Company (MKC) and Flowers Foods (FLO) have returned 22% and -12%, respectively, so far in 2016. McCormick is a part of the PowerShares S&P 500 Quality Portfolio (SPHQ) and the PowerShares S&P 500 Low Volatility Portfolio (SPLV).