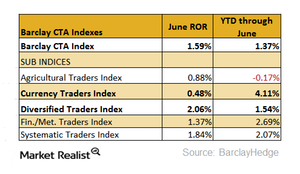 Diversification Strategy Was Key in CTA Index: Currency Lagged
By Sarah Sands

Jul. 8 2016, Published 11:24 a.m. ET
Subindexes of the CTA Index
In the previous part, we saw that in June 2016, the Barclay CTA (commodity trading advisors) Index returned 1.6%. This is one of the most impressive returns in 2016. Now we'll look at the performances of the various subindexes of the CTA Index.
Article continues below advertisement
Index performances
Among all the indexes, the Barclay Diversified Traders Index remained the top performer in June 2016. The Barclay Currency Traders remained the bottom performer during the month. The Diversified Traders Index rose 2.1%, and the Currency Traders Index rose 0.48%.
The agricultural index rose 0.88% in June, and on a YTD (year-to-date) basis, it returned -0.17% as of June 30, 2016. YTD, the poor performance of the agricultural index (DBA) was mainly due to reduced productions for a few commodities (DBC) such as rice and palm oil. However, in June 2016, the rise in agricultural commodities such as sugar and coffee gave a boost to the commodity index.
The currency index returned 0.48% in June. However, it's the top performer YTD, with a return of 4.1% as of June 30, 2016. The 10% fall in the British pound (FXB) against the US dollar (UUP) on June 24, 2016, the day after the Brexit vote, increased volatility in the currency market. The euro (FXE) fell nearly 4% that day. However, the yen (FXY) made a sharp gain.
The Vanguard Materials Index Admiral Shares (VMIAX) returned -0.31% in June 2016 and 9.6% YTD as of June 30, 2016. The AQR Risk-Balanced Commodities Strategy I (ARCIX) returned 4.2% in June 2016 and 19.8% YTD as of June 30, 2016.
In the next part, we'll look at the performance of the Fixed-Income Arbitrage Index.