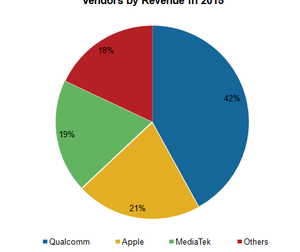 Does Competition in the Smartphone Market Threaten Qualcomm?
By Puja Tayal

Updated
Qualcomm dominates smartphone application processor market
In the previous part of this series, we saw that Qualcomm (QCOM) is moving quickly in terms of technology to stay ahead of its competition. The company, with its ARM-based SoCs (system-on-chips), dominated the mobile revolution and shrugged off competition from NVIDIA (NVDA) and Intel (INTC).
In 2015, NVIDIA dissolved its UK-based mobile business Icera. Intel is rumored to have exited the mobile SoC space due to strong competition from Qualcomm.
However, one company that stood strong in this area is Mediatek. According to Strategy Analytics, Qualcomm's share in the smartphone application processor market fell from 52% in 2014 to 42% in 2015 while MediaTek's share rose from 14% to 19%.
Apple (AAPL) and Samsung (SSNLF) also entered this space and started developing custom SoCs for their phones. If the two handset makers decide to sell their SoCs to other handset makers, it would pose a significant threat to Qualcomm's business.
Article continues below advertisement
Qualcomm versus Mediatek
While Qualcomm (QCOM) continued to dominate the premium device segment, where margins are high, MediaTek took the low- to mid-range devices, where margins are low. The trend is shifting away from high-end phones to mid- and low-end phones, which helped MediaTek's market share rise in 2015.
However, Qualcomm is now focusing on mid- and low-end phones, which means it will compete with MediaTek head-to-head. Both companies face the same issue of slowing sales and falling margins due to higher expenses.
In 1Q16, MediaTek's sales fell by 9.4% YoY (year-over-year) and its operating margin fell to 8%. On the other hand, Qualcomm's chipset business revenue fell by 24.7% YoY and its operating margin fell to 5% during the same quarter.
Is Mediatek a threat to Qualcomm?
Mediatek remains more profitable than Qualcomm. However, Qualcomm's Licensing business, which has an operating margin of 87%, offsets losses from the Chipset business and enables the company to sustain itself even with wafer-thin margins. Moreover, its huge volume gives it the benefit of economies of scale.
MediaTek cannot compete with Qualcomm with similar margins. A profitable business model for MediaTek would be to merge with Chinese chipmakers. However, political issues between China and Taiwan (EWT) pose a major barrier for Mediatek's merger.
China's Tsinghua Unigroup proposed acquiring a stake in MediaTek, but this proposal was rejected by Taiwanese authorities due to national security and intellectual property concerns.
Next, we'll look at Qualcomm's licensing business.