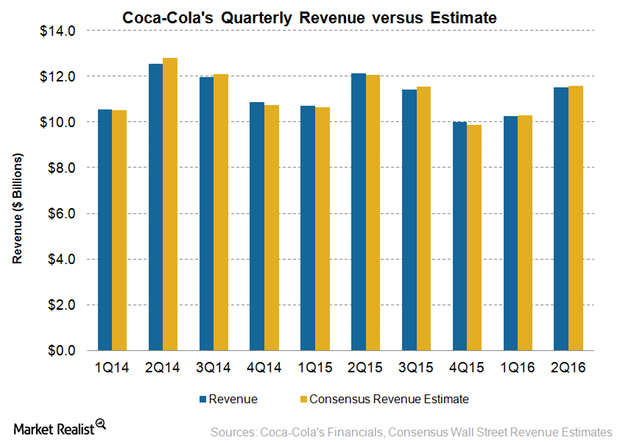 Coca-Cola's 2Q16 Revenue Fell Due to Headwinds
2Q16 revenue lags estimates
Coca-Cola (KO) generated revenue of $11.5 billion in fiscal 2Q16 ending July 1, 2016. The company missed analysts' consensus revenue estimate of $11.6 billion. Coca-Cola's revenue fell by 5.1% in 2Q16 on a year-over-year basis. This is the fifth consecutive quarter of revenue decline for the company. Its revenue decline rate in 2Q16 was higher than the decline rate of 4% in 1Q16 and 3.3% in 2Q15.
Article continues below advertisement
Article continues below advertisement
Headwinds in 2Q16
Coca-Cola's revenue fell in 2Q16 as the 3% favorable impact of price and mix was offset by negative currency movements and structural headwinds. Currency headwinds had a 3 percentage point negative impact on Coca-Cola's 2Q16 revenue. The strengthening of the US dollar against major currencies had a negative impact on the company's performance in recent quarters. Coca-Cola has significant exposure to international operations. It generated 54% of its fiscal 2015 revenues outside the US.
Acquisitions, divestitures, and structural headwinds had a 5 percentage points negative impact on the company's top line. Structural headwinds include the impact of the company's refranchising efforts and the brand transfer agreement associated with the closing of the strategic deal with Monster Beverage (MNST). The iShares Global 100 ETF (IOO) has 1.8% exposure to Coca-Cola.
Rival PepsiCo's (PEP) revenue fell by 3.3% in 2Q16, primarily due to currency headwinds. Dr Pepper Snapple (DPS) reported 2.4% growth in its 2Q16 sales driven by a favorable product and package mix, higher pricing, and increased sales volumes.
Organic revenue
Excluding the impact of acquisitions and divestitures as well as currency headwinds, Coca-Cola's organic revenue grew by 3% in 2Q16. Coca-Cola's organic revenue growth in 2Q16 was negatively impacted by 1 percentage point of segment mix. The company's Bottling Investment segment grew at a slower pace than the company's core business.
Following a weak performance in 2Q16, Coca-Cola lowered its organic revenue growth outlook for fiscal 2016. We'll discuss the company's outlook in Part 7 of this series.
In the next part of this series, we'll discuss the weakness in Coca-Cola's 2Q16 volumes.