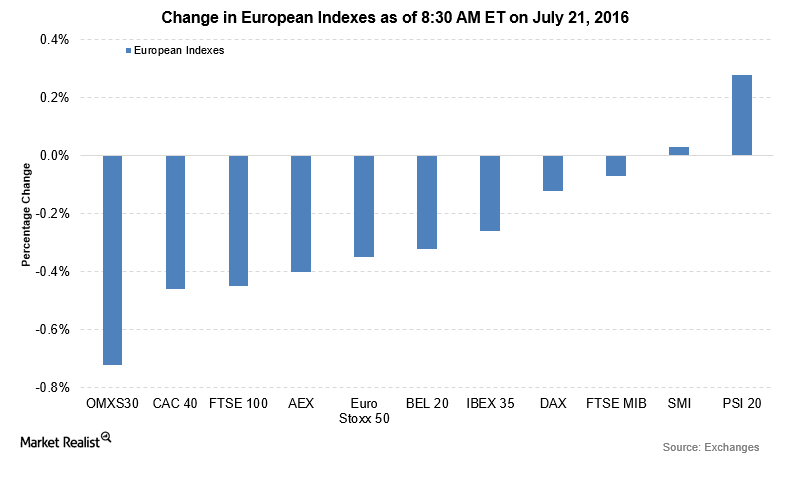 Monetary Policy Statement: Why the ECB Kept Rates Unchanged
ECB left keys rates unchanged
The ECB (European Central Bank) decided to keep the key rates unchanged in the monetary policy review on July 21, 2016. In terms of the rates, the main refinancing rate, interest rates on a marginal lending facility, and interest rates on the deposit facility will remain unchanged at 0%, 0.25%, and -0.40%, respectively. The statement also indicated that rates will remain at the current levels or fall more for an extended period of time. This period is expected to go beyond the current horizon of the ECB's asset purchase program. It's intended to run at least until the end of March 2017.
Regarding the asset purchase program, which currently purchases 80 billion euros worth of assets, the ECB confirmed that it could be extended beyond March 2017. According to the ECB, it can be extended until a period of sustained achievement for inflation targets.
Article continues below advertisement
Article continues below advertisement
FTSE 100 and CAC lead initial fall in indexes
In this part, we'll look at the European markets' initial reaction after the ECB's monetary policy announcement. Markets are still waiting for the press conference by ECB chief Mario Draghi. The speech could change the tides.
The early fall in markets was led by the UK (EWU) index FTSE 100 and the French (EWQ) index CAC 40. They fell by 0.45% and 0.46%, respectively, at 8:30 AM EST just ahead of the press conference. The German (EWG) index DAX remained relatively flat with a slight fall of 0.12%.
The pound was the major loser among the currencies. It fell to a low of 1.3161 ahead of the scheduled press conference. The euro (EUO) (DBEU) was trading on a flat note at 8:30 AM EST.
In the next part of the series, we'll look at the key takeaways from Mario Draghi's press conference.