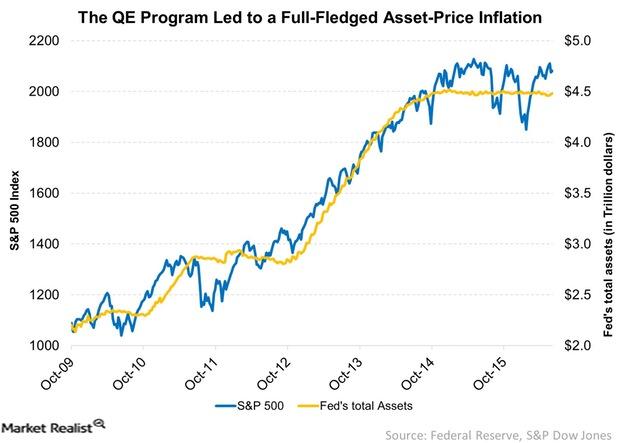 How Central Banks 'Create' Inflation
Money Supply Expansion
Expansion in the money supply is another major cause of inflation. This occurs when the government or central bank introduces additional money into the economy to spur spending and growth, but the level of production of goods and services remains constant. More money in the economy generally causes increased demand, and this demand chases the same amount of goods. Therefore, prices go up in order to avoid a shortage of supply. In this scenario, inflation erodes the value of money and purchasing power decreases.
Article continues below advertisement
Article continues below advertisement
The U.S. government can also add money into the economy through the purchase of bonds in the marketplace, which is commonly called quantitative easing (or QE). The goal of QE is to inflate prices of bonds so that yields decline, consequently keeping rates low to spur easy lending and growth in the economy.
How central banks 'create' inflation Market Realist's View
A QE program doesn't just create inflation; it also causes asset prices to rise. After the financial crisis of 2008, the Fed resorted to an ultra-accommodative monetary policy. Not only did the Fed cut rates to an unprecedented ~0%, it also resorted to a bond-buying program referred to as the QE program. This caused bond yields to fall, along with a massive injection of liquidity, which initially led to an increase in inflation. However, the rise in inflation wasn't long-lived since lower oil prices caused inflation rates to fall again.
However, lower bond yields and increased liquidity caused investors to foray into riskier assets such as equities (IWB) and high-yield bonds (JNK). That caused their valuations to soar.
As the above graph shows, the bull market was mainly as a result of the QE program. And since the program came to an end in October 2014, the S&P 500 index (SPY) has been more or less flat.