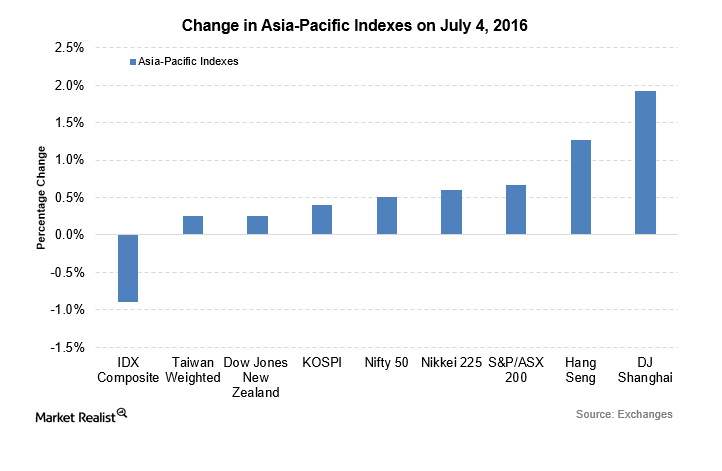 Asian Markets Rise as Australian Housing Data Disappoint
Asian market posts strong gains
Key Asian indexes (AAXJ) were trading higher on July 4. This week, the major data release on the Asian front will be Australian monetary policy.
The Japanese (DBJP) Nikkei 225 rose 0.60% after the Japanese monetary base fell below forecasts to 25.4%. The Indian Index Nifty 50 (INDA) was trading 0.51% higher. The Chinese (AAXJ) DJ Shanghai Index led the gains in the Asian markets, rising 1.9%
Looking at the performances of the Oceanic indexes, we saw that the Australian (EWA) S&P/ASX 200 and the Dow Jones New Zealand Index (VPL) followed a similar trajectory. They rose 0.67% and 0.26%, respectively.
Article continues below advertisement
Article continues below advertisement
Australian building approvals fall 5.2%
The number of seasonally adjusted total dwelling units approved was published by the Australian Bureau of Statistics. It fell by 5.2% to 19,276 after rising for the previous two months. Trend estimates rose 0.9% in May, continuing a rise for the sixth straight month. In terms of value, the fall was more compounded. The seasonally adjusted value of buildings fell 10.3% in May.
European markets flat with a slight negative bias in today's early trade
Positive sentiment from Asian markets failed to carry over to their European (DBEF) counterparts, which were trading lower at 7:30 AM EST. The fall was mainly due to mixed data releases in terms of Spanish (EWP) consumer confidence, which rose to 96.3, while UK construction PMI saw a sharp fall below the 50 mark. UK construction PMI came in at 46, which indicates a contraction in the construction sector.