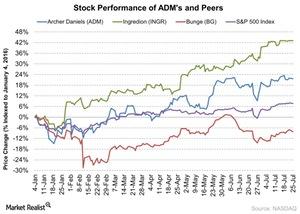 Archer Daniels Midland Stock Gained since Its 1Q16 Earnings
ADM's stock gained
Archer Daniels Midland (ADM) is slated to report its 2Q16 results on August 2 before the market opens. It's an agricultural company based in Chicago, Illinois. Along with its four segments, it procures, transports, stores, processes, and merchandises agricultural commodities and products. The stock has gained 12% since its last quarter results.
It reported its fiscal 1Q16 results on May 3. The stock fell 3% on a disappointing quarter. Its earnings and revenue missed estimates for the first quarter with declining growth year-over-year.
Article continues below advertisement
The stock closed 1% higher on April 19 when it announced investment for NFS's (National Foodworks Services) new headquarters. It rose another 2% and closed at $38.87 on April 20. On June 1, the stock closed 0.14% higher after the company announced the completion of the acquisition of a Casablanca—a Morocco-based corn wet mill. Read Why Did ADM Acquire a Moroccan Sweetener Facility? to learn more.
It lost 30% in fiscal 2015 due to negative earnings growth and weaker sales in most of the company's operating segments. So far in 2016, Archer Daniels Midland has gained 22% as of July 25. It outperformed the Market represented by the S&P 500 Index by 14% as of July 25. It closed at $43.60 on July 25.
Peers' stock performance
So far in 2016, Archer Daniels Midland's peers have had mixed results. Ingredion (INGR) has returned 43% and Bunge (BG) lost 7%, respectively. They closed at $132.83 and $61.39, respectively, on July 25. The PowerShares Dynamic Large Value (PWV) and the SPDR S&P Dividend ETF (SDY) invest 1.5% and 1.3% of their portfolio in Archer Daniels Midland.
Series overview
With Archer Daniels Midland's fiscal 2Q16 earnings release due next week, we'll focus on what to expect in the earnings release. We'll cover analysts' revenue estimates, what could impact the revenue, the EPS, and what could impact earnings. We'll also discuss Archer Daniels Midland's portfolio management strategy and balanced capital allocation framework. Finally, we'll look at its valuation, the expected stock price over the next 12 months, and its moving averages.
Let's start with a recap of Archer Daniels Midland's performance in the last quarter.