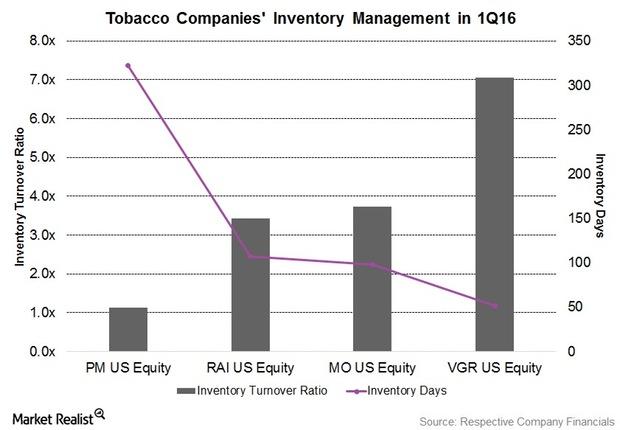 Analyzing Tobacco Companies' 1Q16 Inventory Levels
Distribution channels
Reynolds American (RAI) and Altria Group (MO) distribute cigarettes through a combination of direct wholesale deliveries from local distribution centers and public warehouses located throughout the United States.
In comparison, peers Philip Morris International (PM), British American Tobacco (BTI), and Japan Tobacco (JAPAF) (JAPAY) distribute their products in many diverse geographies.
Article continues below advertisement
Article continues below advertisement
Lower inventory levels
1Q16 inventory levels were lower for tobacco companies due to falling cigarette shipment volumes. The inventory turnover ratio for Philip Morris International fell by 10.2% to 1.1x in 1Q16 compared to 1.3x in 1Q15. The ratio was heavily impacted by Indonesia's soft economy and price increases in Asia. PM's total market share in Asia fell by 1.3 points to 34.1%, primarily due to a share loss in machine-made kretek cigarettes.
Altria Group's 1Q16 ended with a 3.5% fall in inventory levels. Its 1Q16 inventory turnover metric came in at 3.7x. However, Altria's subsidiary Philip Morris USA reported a rise of 1.2% in shipment volumes in 1Q16. This was due to an extra shipping day, trade inventory movements, and retail share gains, which more than offset industry volume decline.
Japan Tobacco's 1Q16 inventory level fell by ~12% to 1.7x. However, its global flagship brands' shipment volumes rose by 10.7% to 66.4 billion, driven by European demand and the addition of Reynolds American's (RAI) Natural American Spirit brand.
Improved economic factors
In comparison, the inventory turnover ratio for Reynolds American rose by 2.5% to 3.4x. This was partly driven by improved economic factors and lower gas prices, which benefited tobacco consumers' disposable income. In terms of inventory management, Vector Group (VGR) outperformed its peers with a higher inventory turnover ratio of 7.1x in 1Q16.
The iShares Core High Dividend ETF (HDV) gives exposure to established, high-quality US companies including MO and PM. Together, these two stocks make up 8.5% of the total weight of HDV's portfolio.[1. Updated as of July 5, 2016]